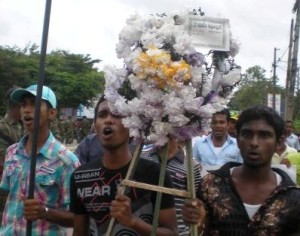 ITUC to agitate membership protest, demands Govt. immediately withdraw Pension Fund Bill
An international grouping of trade unions has vehemently hit out at the recent unrest at the Katunayake Free Trade Zone (KFTZ) that left a worker killed and scores injured, calling upon its 300 plus membership to launch individual protests against the Government of Sri Lanka.

The International Trade Union Confederation (ITUC), which represents over 176 million workers through its 305 affiliates in 155 countries, including Sri Lanka, has expressed serious concern over the incidents following protests over the proposed Private Sector Pension Scheme.
The ITUC has denounced in the strongest possible terms, the violent repression of legitimate workers' protest actions, which have led to 270 workers being injured, of whom 60 were seriously injured and a 22-year-old worker being killed.
In a letter to the Government, it has urged the immediate withdrawal of the Employees' Pension Benefit Fund Bill, establish a full, independent and immediate investigation into the incidents, with a special provision to investigate the behaviour of the police, ensure compensation and job security to the victims of excessive police violence and render impossible this kind of police harassment in the future.
The ITUC has also reminded the Government of its obligations to the International Labour Organisation (ILO) Conventions 87 (on Freedom of Association) and 98 (on Collective Bargaining). In addition, the ITUC has called on its members to send individual protest notes to Sri Lankan Missions in their respective countries.
Local trade unions were yesterday upbeat at the developments overseas, saying that the Government will have to listen more closely, since the international workforce was getting involved. Palitha Athukorale of the National Union of Migrant (EPZ) workers Sri Lanka (NUMS) said the matter had also been taken up at the sessions of the ILO which concluded in Geneva this week.
The ITUC has now kicked off a global campaign and the Government will have to take serious note of that. If the government fails to heed the demands put forward by the ITUC, it will be courting trouble, Anton Marcus of the Katunayake Free Trade Zone Workers Union (KFTZWU) warned.
He said that if there is no progress from the Government's side, the ITUC will definitely make a formal complaint to the ILO and things could get quite complicated thereafter. He added that two pro-government unions – the Sri Lanka Nidhas Sevaka Sangama (SLNSS) and the Ceylon Workers Congress (CWC) are also affiliated to the ITUC.
"Furthermore the head of the SLNSS is President Mahinda Rajapaksa," he added.
ST