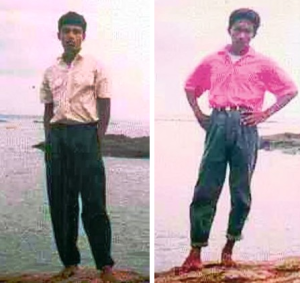 Missions sons: will Gotabhaya answer?
A grieving mother of two teenage sons who were abducted by the Army in 1989, narrates how she was stopped and sent back when she went to meet then Military Coordinating Officer (MCO) for Matale, Lt. Col. Gotabhaya Rajapaksa.
By Ranga Jayasuriya
The two teenage sons of K.G. Kamalawathi were snatched by the soldiers who arrived at her residence during a notorious 'military round up' of local youth on 13 December 1989. The two teenagers, Susantha Janaka (18) and Rohana Nishantha (17), were GCE Advanced Level students at Science College and Vijaya Vidyalaya, Matale.


Kamalawathi a brave mother
The two boys were having their lunch when the military unceremoniously entered their home at Warakanda Watta, Ukuwela, Matale, and took them to the Rest House Camp, near Vijaya Vidyalaya, which was located in the vicinity of the current mass grave at the backyard of the Matale Hospital, from where 154 skeleton remains dating back to 1986-89 as stated in the investigations, had been uncovered.
"Thirteen other boys from the village were also taken on by the Army that day," recalls Kamalawathi.
"When my children were taken by the Army, I followed them. They were taken to the Rest House Camp, located near Vijaya Vidyalaya. I asked that I be allowed to talk to my sons, but the soldiers refused."
Kamalawathi visited the Army camp the following day and once again she had been denied permission to see her sons.
"On the third day, a soldier read out from a list the names of the children who had been held in the camp. Some names had been cut off with a red pen and the names of my two sons had also been cut off, in red," she said.
Kamalawathi had arrived in Matale only four months before, after being driven away from Pulmudai by the Tamil Tigers.
"My husband was dead and I was looking after four children on my own," she explained.
Kamalawathi had pleaded with a soldier, who she remembers as U.P.R Perera, to be allowed to see her sons. He had gone into the camp and had returned to tell her that her two sons were kept in the camp, but she could not be allowed to see them.
No one to turn to
A grieving widowed mother, who was new to Matale, she had no one to turn to, for help.
It was at that point she had come to know that Nandimithra Ekanayake, now a minister of the current government, was helping the families of the disappeared.
She sought his help and he had promised to do 'whatever he could,' recalls Kamalawathi.
Nandimitra Ekanayake had subsequently told her that he sent his secretary to the Rest House Camp and that her two sons had been held there.
Later, he told her to go and meet the Military Coordinating Officer who was identified as Gotabhaya Rajapaksa.
"We were at a loss. Here, Mahinda Rajapaksa was campaigning on behalf of the children who had been abducted, and I could not believe that his brother was in the Army at the same time," she said.
However, she decided to go and meet him. Nandimithra had told her that he had contacted Gotabhaya Rajapaksa over the two detained youth.
"But, when I went to meet him, I was stopped at the gate by a soldier called Corporal Silva. He told me I could not meet the MCO and I was ordered to leave the place," she said.
Devastated, Kamalawathi continued to visit the Rest House camp every day from the day her children had been taken by the Army.
The soldiers had 'tricked' her by sending her to different camps that dotted Matale at the time, claiming that her two sons were transferred from one camp to another.
She pleaded for help from the Red Cross and wrote to UN agencies for help, some of which acknowledged the receipt of her letters. But, no one could get her children released from military custody. Months later, some local boys were released from military custody. They told her that they, along with her sons, had been taken to the 'Red Bana Camp,' and that they also spent time in a military camp, which was operating from Vijaya Vidyalaya, where the Gajaba Regiment was alleged to have operated a torture chamber.
However, her two sons never returned and Kamalawathi, shattered and helpless, had given up on her search.
Later, when the Chandrika Kumaratunga administration offered death certificates for the disappeared youth, she refused to accept death certificates for her two sons.
"I am coming forward now to tell the story because I want justice for my sons. I don't know whether justice will ever be delivered," she said.
Several years after the abduction of her two sons, Alick Aluvihare, the UNP strongman at the time in Matale had contacted Kamalawathi.
"He asked me why I did not tell him about my sons. He could have saved them, he said. But how could I seek help from those who commissioned the crime. It was they who had authorized those crimes," she added. By now, she may know that it was not only the Aluvihares who were behind the incident. There are others too, some of who still remain all powerful.
'It could have been an exception'
When Ceylon Today contacted Minister Nandimithra Ekanayake, he said he could not remember this particular incident involving Mrs. Kamalawathi, but added that he took up 'countless' cases of disappearances of local youth at that time.
"I was the only MP elected from the Opposition; the other four parliamentarians were from the UNP," he said.
He also said Gotabhaya Rajapaksa, the Military Coordinating Officer of Matale at that time, had been very 'cooperative' (towards him) and 'kind' to the detained youth.
Even those youth who committed 'the worst offences' had been sent to rehabilitation camps, he said, adding, "That particular instance, (Kamalawathi's) could have been an exception."