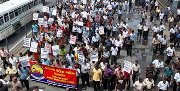 workers protest in SL
The JVP yesterday said that it would move the Supreme Court against the government using EPF funds to acquire shares of loss making private institutions, listed on the Colombo Stock Exchange (CSE). Commenting on the recently reversed NSB – TFC deal at a media conference held at the party head office, JVP MP Sunil Handunnetti said the resignation of those responsible for the deal was not enough.

Alleging that the government was making an attempt to hoodwink the people, he said, there was a need to take punitive action against all those responsible, irrespective of their standing in society.
According to the EPF Act of 1958 No. 15, it is prohibited to invest EPF funds in anything other than the Treasury Securities, Handunnetti, said, adding that the government had used Rs. 1,240 million from the EPF to purchase shares of Grain Elevators Ltd. at the CSE.
The Colombo District MP said that government had purchased those shares at Rs. 288 each but the present value of a share was Rs. 36.20. "How can anyone prevent the loss now, as the EPF is not a government owned fund. It is owned by the workers of this country."
Handunetti said that the government had violated the EPF Act by using EPF money for gambling on the CSE.
"We will file legal action against it shortly," Handunnetti said.
by Dasun Edirisinghe
IS