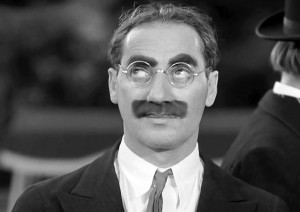 Groucho Marx:'Military Intelligence' is a 'contradiction in terms'.

by Gamini Weerakoon
Groucho Marx an outstanding comedian for about four decades of the last Century described 'Military Intelligence' as a 'contradiction in terms'.
Groucho's perception can be appreciated. In his time the gentlemen in khaki were not considered to be blessed with much intelligence. And those with intelligence – 'nerds' as we call them now – did not want to get into khaki.
Times have changed. This is the age of the 'Rana Viru' and those in military intelligence are considered the 'top of the pops'.

Night Clubbing
We were however somewhat confused last week about military on reports of two military intelligence officers that made the headlines. Two military intelligence officers of the army were apparently involved in a fracas with Malaka Silva who has become notorious for his encounters with the public, particularly at night clubs. The incident occurred at a hi-fi place in Colombo in the early hours of the morning. Silva had been with a gang, presumably his supporters.
The military intelligence official had complained to the police that he had been assaulted by Malaka Silva, his golden chain, mobile phone and gun taken away from him.
Reports of the incident made the front pages not only because of young Silva's notoriety, but his father, Minister of Public Affairs, Mervyn Silva is notorious for much more abhorrent behaviour towards the public over the years.
Newspapers, even the once fiercely independent but now abjectly pro-government, screamed not only at the brazen outrage but also because of the seeming impotency of the police to act on a complaint made against the son of a minister. Towards the end of the week Malaka Silva along with his one time school buddy surrendered to court and they were remanded.

Piece de Resistance
Then came the most bizarre development. A sworn affidavit said to have been made the senior military officer was submitted to court saying that Malaka Silva did not attack him; the gold chain which was said to have been taken away was found at his residence and that the telephone had been returned to the police.
Whatever happened in the early hours at the Jaic Hilton on the said day, it would be certainly illogical for a major of the Sri Lanka army's intelligence service to complain to the police that he had been assaulted and robbed by Malaka Silva and when Silva and his friend surrendered to the police to submit a written application denying all charges he had made.
What can the understanding of the man on the street of Sri Lanka's 'Military Intelligence'?
We will refrain from commenting on this case which is to be taken up in courts this week.
However, the public is already drawing parallels where the father Mervyn Silva was seen having a Grama Niyamaka Niladhari (one in the lowest rungs of the public service) tied to a tree and having it televised on national TV. He was supposed to be giving a lesson to public servants who do not follow orders of politicians like him! The piece de resistance was that the humiliated public servant declared that he had wanted himself tied to the tree because he disobeyed Mervyn Silva's orders!

Sri Lankan Justice
This is justice today in this land – Sri Lanka justice! The victim begs pardon from the offender for no offence committed but for daring to challenge the offender!
What kind of justice is this: Retributive Justice, Restorative Justice, Kangaroo Justice or the Justice of the Wild West – Hang 'em high?
Don't blame the Rajapaksa government or complain. It's all absolutely legal. Freedom to act and no political interference, the loyalists will say.
A complaint is made against a powerful government personality and the police, of course, can't rush in and take the alleged offender into custody. Yes, yes, of course, there may have been instances where the police had rushed and effected arrests but that does not mean it has to be the rule. It took time to arrest the people but then what can the police do? After the arrests were made a declaration is made that the said allegations did not take place? What can the police do? It's been done very legally.
Al Capone is attributed with the advice: Rob but make sure its legal.
It has been happening much before Al Capone was born and continues with vigour after his death.
What are lawyers for?
The judicial system today is such that you can commit any crime as long as it is 'legal' – at least till the guardians and custodians of the law think the modus operandi is legal. And blessed are they who think in step with the ruling clique.
Sri Lankans in recent times have also experienced what has been called military justice. For an authority on the subject, we can recommend:
General Sarath Fonseka even though he may not wax eloquent about it in this post 'Victory' period. We went back to our philosopher on many things, Groucho Marx.
"Military justice is to justice is what military music is to music," says Groucho. Apparently Groucho is not an admirer of things military: intelligence, music or justice and he will not be much popular in these Rana Viru days.
We will end these comments from the greatest of thinkers the world has ever known – Albert Einstein. Though Groucho and Einstein are poles apart (sublime and the ridiculous, some are bound to say) they are on the same wavelength on militarism; Einstein has said: 'He who joyfully marches to music rank and file has already earned my contempt. He has given a large slice of his brain by mistake since for him the spinal cord itself will suffice.
This disgrace to civilisation should be done away with at once. Heroism at command, how violently I hate, how despicable and ignoble war is. I would rather be torn to shreds than be a part of so base an action. It is my conviction whether killing under the cloak of war is nothing but an act of murder.'

Food for thought?
Shouldn't those academics as well as school principals (now being made instant colonels and the like) who would see new undergraduates to campuses 'joyfully march to music' take heed to the advice of this great thinker who had to flee his motherland when armed Nazi fascists commenced marching on the streets and burning books? courtesy: The Sunday Leader
DBS