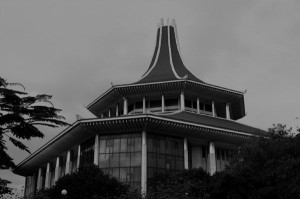 Supereme court: Dark clouds over it
The Bar Association of Sri Lanka (BASL) yesterday passed two strong resolutions. One resolution condemned interference in the work of the Judicial Service Commission (JSC), Bar Association President Wijedasa Rajapakshe said. The other resolution was to appoint a team of senior lawyers to see if there is enough material to file contempt of court papers to charge the people involved in certain SLBC and ITN programmes. Rajapakshe said these persons had been heard attacking certain judges and judgments.
Rajapakshe said around 400 out of around 600 members from all parts of the country attended yesterday's meeting at the BASL headquarters. The resolutions will be released to the public on Monday after all the office bearers sign them.

The last week saw several statements released on this tussle. One of the strongest came from the Judicial Service Commission decrying alleged interference in their affairs. JSC secretary Manjula Tillekeratne said that pressure was being applied on the commission with regard to certain official decisions taken by the commission. He referred in particular to the disciplinary action taken by the commission against a judge, who is not named in the statement.
Tillekeratne said that if any pressure is brought upon any judge or member of the JSC, such persons can be hauled up before Court. He also asserts that the JSC will continue to safeguard the independence of the judiciary at all times.
Baseless allegations
The secretary starts off by saying that the attention of the Judicial Service Commission has been drawn to various baseless allegations levelled against the commission and the judiciary in the print and electronic media. He says that the JSC firmly believes that certain elements are trying to achieve their narrow objectives by ridiculing the commission and the judiciary. Their chief objective is to compromise the independence of the judiciary and the supremacy of the law.
The JSC alludes to various threats and pressures by various kinds of people, especially when disciplinary action was recently taken against a judge. Furthermore the chief justice and two Supreme Court judges who are members of the JSC were summoned, the statement says, without revealing who did the summoning. It explains that these efforts were defeated by explaining to those responsible how it is important to maintain the independence of the judiciary and the JSC.
The statement explains that the JSC is tasked with appointing magistrates and district court judges, promotions, transfers, and disciplinary matters. The Constitution grants it independence and decrees that any direct or indirect interference or pressure is an offence that can be tried before the High Court.
The JSC maintains that it is committed to protecting the independence of the judiciary against any direct or indirect threats or pressures. It is also committed to the supremacy of the law. The media statement was issued to make the public aware of attempts being made to tarnish the good name of the judiciary.
Meanwhile, Lawyers for Democracy (LfD) also issued a statement. Its convenor, Lal Wijenayaka said, "Lawyers for Democracy is disturbed by the emerging evidence of coordinated moves to undermine the independence of judiciary in Sri Lanka."
Political leadership dissatisfied
"The statement issued by the Judicial Service Commission (JSC) on September 16, 2012 clearly indicates that there are various attempts to interfere with the affairs of the Judicial Service Commission," he says. "After the recent determination made by the Supreme Court of Sri Lanka on a Bill titled "Divineguma," the political leadership of the government has expressed its dissatisfaction over the decisions made by the Supreme Court. For example, the government has organized a public demonstration, where people were transported at public expenditure to a close location near Parliament to criticize the Supreme Court determination. Recently, several programmes in the state media carried vicious and malicious programmes critical of the judiciary."
"LfD sees this trend as a clear move by the government to intimidate the judiciary and undermine the Rule of Law and an attempt to make the judges vulnerable for governmental pressure," it says. "All public institutions are totally politicized and are at the disposal of the regime. The judiciary is the only organ that has survived direct political interference. Therefore we urge the president and the government to respect the independence of the judiciary and take all possible steps to stop direct and indirect intimidation and incitements against the judiciary."
"LfD also urges the government to ensure that State media will respect basic decency in journalistic ethics in their references to judiciary and judges," it urges. "While expressing solidarity with the JSC, we remind the public that in any civilized society all individuals and institutions should respect the judiciary as the ultimate arbiter of all disputes between the State and the citizens."
Some legal analysts feel this sort of direct confrontation between the judiciary and the government started with the attack on the Mannar Magistrate by Minister Rishad Bathiudeen. The government supported the minister. The Judges Association of Sri Lanka and BASL both lodged strong protests against the intimidation of the magistrate. –
Couretsy: Lakbima News/ SLG