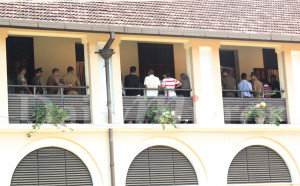 Well wishers at the hospital
The secretary of the Judicial Services Commission Manjula Thilakarathne has been assaulted by a group of four unidentified men in Mount Lavinia this morning, the Police said.
Mr. Tilakeratne was assaulted near S. Thomas' College in Mount Lavinia while he was inside his car which was parked on Hotel Road.

Police Headquarters said an unidentified person had got down from a car they came and assaulted Tilakeratne with a pistol while he was reading a newspaper in his car between 8.30 am-9.00 am today.
In his statement to the Mount Lavinia police, the secretary had charged that the suspect had assaulted him with a pistol saying 'So you're the one'.
The suspect had then got into the car by taking Tillerkaratne's mobile phone and fled the scene. He immediately informed the police emergency unit and the policemen took him to the Colombo National Hospital in his car.
He sustained injuries to his face and right hand. According to hospital authorities Mr. Tilakeratne is in a stable condition.
Police noted that the victim had come to drop his son and wife at S. Thomas' College as his son was participating in a table tennis tournament. (Supun Dias)
DM
———-
District Judges and Magistrates decide to halt work .
All district judges and magistrates in the country have decided to keep away from their day to day work tomorrow (8) to protest against the assault on Judicial Services Commission Secretary Manjula Tilakaratne.
A statement signed by Judicial Service Association President and Additional District Judge Kurunegala A. K. M. Patabendige and Secretary of the Association and Additional District Judge Colombo Pradeep Jayatileke said the decision was arrived at a meeting of the Executive Committee of the Association which met today.
Also the statement said the Association would meet again on Tuesday October 9 to decide on further action.(YP)
DM