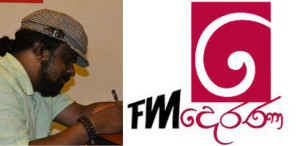 Kelum dearana 410px 06-08-1An announcer in a famous FM channel in Sri Lanka says that he was given the job via a phone call and was fired via an SMS.
This comment was made by Mr. Kalum Amarasinghe, the recently sacked journalist from FM Derana, to BBC Sandeshaya.

He said that although he has not been given any official document confirming his appointment, his salary was given to him through the bank account maintained by the Derena institute in Sampath bank.
He said that the reason for firing him was his expressions made in the radio program when presenting two Lankadeepa news headlines regarding the Rathupaswala army assault.
He also said that his sacking was justified by the program director by saying that they have been ordered not to criticize anything About the President or the defence secretary.
However, the director himself had accepted that it was not informed to Kalum.
However, Kalum Amarasinghe says that the order has been given by a head in Derana institute named Dilith Jayaweera.
However attempts made to contact Mr. Shehan Baranage, the head of news division to get the Derena's response, was unsuccessful.
However, Mr. Amarasinghe points out that this clearly proves the self censorship that has been applied in the SriLankan media at present.
-BBC Sandeshaya/SLM