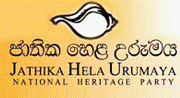 In the wake of Gen. Sarath Fonseka's release, the Jathika Hela Urumaya (JHU) warned that the government would have to carefully watch how Western powers reacted to the latest development. The JHU's National Organizer, Nishantha Sri Warnasinghe told The Island that the impact of the former army commander's unexpected release on the political scene should be studied.

Responding to a query, Warnasinghe emphasized that the political authority shouldn't forget that Western power's primary goal in the post-war scenario remained regime change in Sri Lanka. But the Western strategy heavily depended on the capability of the local Opposition to create a situation serious enough to warrant external intervention.
The JHU official discussed the possibility of a section of the Opposition launching a sustained street protest campaign targeting political stability, while recalling the circumstances in which the Frontline Socialist Party (FSP) came into being recently, with the obvious patronage of influential external elements. "We have to be ready to face any eventuality-possible short or long term threats. Although the Opposition's right to challenge a democratically elected government cannot be disputed, the threat of a possible multi-pronged attack can pose a serious threat."
Warnasinghe said that the government should move cautiously, as those hell-bent on forcing a regime change would explore ways and means of using the Fonseka factor to their advantage. The bottom line was that manipulation of the situation could be the order of the day, he said, emphasizing the responsibility on the part of the SLFP-led coalition not to help create a situation conducive to its opponents. Commenting on the recent controversy over an alleged move to remove a mosque situated within the Dambulla sacred area, Warnasinghe pointed out that the dispute caused irreparable damage. Even the Global Tamil Forum (GTF) tried to exploit the Dambulla crisis, he said.
Recalling that the recent destruction of the statues of Mahatma Gandhi, Swami Vipulananda, Pulavarma'ni Periyathampi-pi'l'lai and Baden-Powell in the heart of Batticaloa caused a rift between Sri Lanka and India, he queried: "Who would have been benefited by angering India? Who could cause such destruction and get away with it?"
Responding to another query, Warnasinghe said that the government should be watchful of what was going on at the United Nations Human Rights Council, Geneva. Asserting that substantial progress had been made since the conclusion of the conflict in May, 2009, Warnasinghe stressed that those critical of post-war economic recovery and accountability issues should know that the eelam conflict lasted three decades. "Would it be possible to restore normalcy within three years? Would it be reasonable to expect us to tackle long standing issues overnight?"
Warnasinghe said that the government should never underestimate the threat posed by external elements, which work overtime to bring us to our knees. International isolation of Sri Lanka was their primary aim, he said, asserting that the country could be at the receiving end when Western powers took punitive action against much bigger economies than ours. The US-imposed sanctions targeting Iran over Teheran's alleged attempts to develop nuclear weapons was a case in point, he said. Had Sri Lanka allowed Western powers to evacuate the LTTE leadership during the final phase of the conflict, the country wouldn't have experienced trouble over accountability issues, but a new terrorist threat would have emerged from a different direction. The President took a big risk by going against the wishes of the US, he said and the government should be mindful of Western efforts to destabilize the country. Warnasinghe alleged that the Sri Lankan economy could be severely affected due to US sanctions on Iranian crude oil imports. "Almost 90 per cent of our supplies were of Iranian origin. Now we are forced to cut down on the quantity of Iranian imports, and look elsewhere to meet the shortfall."
by Shamindra Ferdinando
IS