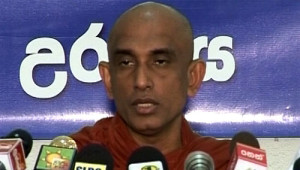 Rathana Thera: Gaddafi faced trouble after allowing UN visit
The Jathika Hela Urumaya (JHU), which is an ally of the United People's Freedom Alliance (UPFA) government, said yesterday it was highly unwise on the part of the government to have permitted officials of the UN Human Rights Commission (UNHRC) to visit Sri Lanka.
Expressing its concern, JHU parliamentary group leader the Ven. Athuraliye Rathana Thera asked the government why it granted permission to the UN officials to visit Sri Lanka when the government was opposed to the USbacked resolution, which was adopted at the March sessions of the UNHRC.

The Thera said though the JHU was in a coalition with the UPFA government it opposed the visit by the UN officials because the visit would do more harm than good for the country.
He said UN officials had visited Libya and Iraq. Hanny Megally who is one of the officials visiting Sri Lanka even visited Sudan on an observation tour before that country was separated.
"What did the UNHRC do when America invaded Iraq? What did it do when more than 300 children died in Iraq from malnutrition because of the American embargo on Iraq's food imports? The UNHRC did little or nothing when civilians were killed in Afghanistan and Ruwanda," Ven. Rathana Thera said.
He pointed out that even leader's like slain Libyan President Muammar Gaddafi faced trouble after he allowed UN officials to visit Libya for observation purposes.
The Thera said President Mahinda Rajapaksa had been ill-advised by certain individuals into allowing the UN team to visit Sri Lanka.
He said though the government kept changing its stance, the JHU would continue to object to the UNHRC visit because the JHU saw it as an interference in the internal affairs of a sovereign country.
BY SARASI PARANAMANNA
Source: Daily Mirror – Sri Lanka