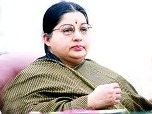 By M.R. Narayan Swamy
Tamil Nadu Chief Minister J. Jayalalithaa appears dead set on taking on the ordinary Sinhalese for her inability to influence the Indian government to pursue a Sri Lanka policy of her choice.
It is plain ridiculous to suspend an officer of Chennai's Jawaharlal Nehru indoor stadium for allowing the use of the ground for a football match between a Sri Lankan team and a local team.

The game, we are told, had hurt the "sentiments" of Indians Tamils, because of the excesses that took place during Sri Lanka's war against the LTTE that also killed many innocents (mostly Tamil).
The Sri Lankan football team was asked to go back. Another Sri Lankan student team also faced hostility. If this wasn't enough, Tamil groups have taken upon themselves to oppose the visit of some 200 Sri Lankan pilgrims to Tamil Nadu.
At this rate, will Jayalalithaa call for an end to India-Sri Lanka cricketing ties?
After all, if a football clash between two unknown teams – an event which would have gone unnoticed but for the chief minister's action – can hurt "Tamil sentiments", a high-profile cricket match between the national teams of India and Sri Lanka is bound to cause the same effect. (India won 4-1 an ODI series in Sri Lanka in as July-August and is set to visit Sri Lanka again.)
What more? Will New Delhi be asked to shut its high commission and two consulates in Sri Lanka? Maybe India should also sever trade links with Colombo. Will Indian tourists be told to boycott Sri Lanka?
In as much as none of these has any logic, the same applies to Jayalalithaa's action against the football team.
It is one thing for the chief minister to rant against India's military relations with Sri Lanka.
It is insane to tell ordinary Sri Lankans – whatever the ethnicity – that they are not welcome to Tamil Nadu on account of the supposed wrongs of the regime in Colombo.
This would be akin to punishing the Indian Muslim today for whatever Mughal kings of an earlier period did.
The Indian government was wrong in stating that it would continue to provide "training" to Sri Lankan military officers. It was a badly worded statement.
What should have been stated is that the Sri Lankans are among military personnel from many countries who come to India for routine refresher courses. India is not teaching these soldiers how to kill; they already know it.
The only Sri Lankans India trained to kill belonged to Tamil groups including the LTTE.
Despite Islamabad's undisguised backing to terrorist groups in India, no sensible Indian wants an end to people-to-people contacts with Pakistan. Nor has anyone said 'no' to Chinese investment since Beijing occupies Indian territory.
Jayalalithaa's actions – and those who think on similar terms – can only strengthen the Rajapaksa regime, which will point at Tamil Nadu to maintain its military presence in predominantly Tamil areas.
None of what is taking place in Tamil Nadu – which itself is linked to the traditional DMK-AIADMK rivalry – will prove in anyway useful to the ordinary Tamil in Sri Lanka.
Many in Sri Lanka and around the world have legitimate concerns about human rights abuses and reconciliation issues there. There is nothing wrong if these are discussed threadbare – or if people feel frustrated vis-a-vis Colombo.
But the anti-Sri Lanka tendencies Jayalalithaa is fanning in Tamil Nadu will have long-term consequences — for India.
IANS