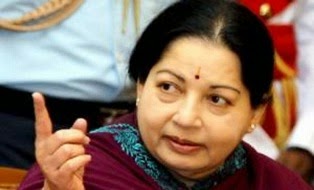 Jayalalitha: talking tough
CHENNAI: Tamil Nadu chief minister J Jayalalithaa has taken a firm stand on the Sri Lankan Tamil issue despite conciliatory gestures by the Island nation in recent times, including release of Indian fishermen from the jails in that country. In a memorandum submitted to Prime Minister Narendra Modi in New Delhi on Tuesday, the chief minister reiterated her stand. She demanded the Centre sponsor a resolution in the UN condemning the genocide in Sri Lanka and to hold all those responsible for it accountable. She said the resolution should demand a referendum among the Tamils in Sri Lanka for the formation of a separate Tamil Eelam.
Jayalalithaa said there were very strong sentiments among people in Tamil Nadu on a range of issues relating to India's relations with the present regime in Sri Lanka in the aftermath of the final stages of the civil war in that country. The final stages of the war witnessed an 'ethnic pogrom' and 'genocide' perpetrated on the Tamil minority in Sri Lanka.
She recalled the four resolutions passed in the Tamil Nadu assembly condemning the 'continuous discrimination' against the Tamil minorities in Sri Lanka and "violation of their human rights."
Similarly, she demanded retrieval of Katchatheevu and restoration of traditional fishing rights of fishermen in Tamil Nadu. During her press briefing after the meeting, Jayalalithaa said she had discussed fishermen issues with Modi.
The Tamil National Alliance (TNA) appreciated Jayalalithaa's concern for the welfare of the minority Tamils in the island nation. "We welcome her firm stand for the welfare of Sri Lankan Tamils," TNA spokesperson Suresh Premachandran said.
A day before the meeting between Modi and Jayalalithaa, Sri Lankan President Mahinda Rajapaksa had ordered the release of 29 Indian fishermen arrested last week for allegedly fishing in the Sri Lankan waters. The fishermen issue figured during the bilateral talks in New Delhi last week when President Rajapaksa visited Delhi to attend Modi's swearing-in as the Prime Minister. Prior to the swearing-in ceremony, Rajapaksa had ordered the release of a batch of Indian fishermen.
Jayalalithaa said she had written 41 times in the last three years to the then Prime Minister on the 76 incidents of apprehension and 67 incidents of attacks on or harassment of Tamil Nadu fishermen by the Sri Lankan navy. 'These incidents have caused unrest among the fishermen community in Tamil Nadu. Such incidents are a national issue as any attack on an innocent Indian is an attack on India," she said in the memorandum.
She requested Modi to protect the traditional fishing rights of Indian fishermen in the Palk Bay area. The chief minister reiterated her demand that Katchatheevu be retrieved from Sri Lanka and the traditional fishing rights of Tamil Nadu fishermen be restored.