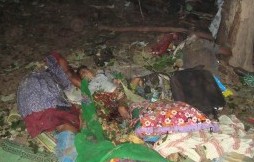 July 1, 2011 by gordon weiss
In response to Groundviews, the respected Sri Lankan citizen's journal, I am posting this single image taken by Colonel Harun Khan, of the deaths of civilians as a result of shelling. For those who don't know, Khan, who features in Chapter 5 of my book "The Cage", is a Bangladeshi Colonel and UN officer who came under bombardment courtesy of the Sri Lankan Army in late January 2009.
He witnessed the resulting deaths and injuries to civilians – "nothing short of intentional murder" as he said – and extensively photographed the carnage. His presence was unfortunate because at the same time the Government of Sri Lanka was denying that its operations were killing civilians at all. There are many other images of the wounded and dead from these days in late January 2009, as well as close-ups of splash marks on trees, vehicles, and shell craters. I will not post other images of the dead, mostly because I think that it is rightly up to a credible and properly constituted judicial authority to weigh the evidence. Khan provided these images to me, as he did his testimony, with the specific intention that this wrongdoing should be known, not merely conveniently buried.
My prediction is that this image of a dead mother and children (as well as others in the deep background and to the right side) will quickly be taken up by various loons as evidence of the set-design and pantomime skills of Tamil Tiger Productions Inc. Good luck to them. May they exhaust themselves in fantasies of international conspiracies that are directed at Sri Lanka for the purposes of… ah, well – oil? No. Perhaps dividing the island in order to prevent China's toehold? Bit late. Umm. Cornering the tea market? Well, genetic engineering is rather spoiling that. Racism? Oh but then there's that Tamil thing… Neocolonialism? Big Powerism? Lording-it-over-us-ism? Envy? Paranoia? Take your pick, any will do.
60seconds