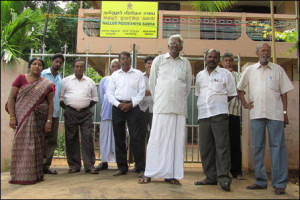 Protest in front of Nallor Piratheasa Chapai (PS)
13 elected civic bodies in the Jaffna Peninsula organized parallel agitations in their respective areas on Monday, protesting against occupying Sri Lanka's violent intimidation and machinations blocking the mandated functions of the elected bodies. The protestors condemned the recent brutal attack on the Nalloor divisional council (Predeasa Sapai) chairperson Vasanthakumar, allegedly by SL military intelligence operatives, while he was attending legal procedures for recovering a civic body land occupied by the SL military.
When even the grassroot institutions are treated in this way, Sri Lanka has nothing at all in its agenda to offer as solutions to Tamils, accused TNA parliamentarian Maavai Senadhiraja, addressing the demonstration that took place in front of the divisional secretariat at Nalloor.
The Nalloor demonstration was also attended by Mr MVK Sivagnanam, chairperson of the federation of NGOs in Jaffna.
Except the Jaffna Municipal Council and three civic bodies in the islands, all the TNA-run civic bodies throughout the peninsula carried out demonstrations for one hour between 10 and 11 AM on Monday.
There was heavy presence of SL military, SL military intelligence personnel in plain clothes and SL police at the venue of the demonstrations, spying on everyone of the public and taking record of the participants in an intimidating way.