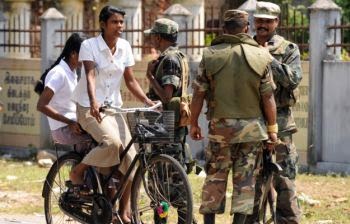 Militarised Jaffna ( file photo)
Roads blocked in Jaffna
Access to Uthayan newspaper office in Jaffna and the Keerimalai Naguleswaram Temple were restricted by military forces today creating a tense situation in the areas in Jaffna, sources said.
According to a staff member of the Uthayan newspaper office, the two entrances leading to the office from the Navalar Road and Kasthuriyar Road were blocked by the military and all those who entered the road had been questioned of their whereabouts and where they were heading.
"Those who said they were visiting our office were turned away and not allowed to enter," the staffer said speaking to the Daily Mirror.
Managing Director of Uthayan newspaper and TNA MP E. Sarawanabavan said the daily activities of the newspaper were disrupted today as no one was allowed access to the Uthayan office.
When he inquired the military officials stationed at the two entrances concerning the road blocks, he said he was informed it was carried out under 'High Command'.
"They seemed to be worried about activities that might be carried out inside the office to remember the dead. A very intimate ceremony was held in the morning by staffers as several of our employees were affected by the war. But there was nothing planned for the evening," he added.
MP Sarawanabavan said similarly, those who were planning to visit the Naguleswaram Temple to perform religious rituals to remember their loved ones had been deprived of the chance to do so as all roads leading to the temple were blocked by the military.
"This atmosphere is not at all conducive for reconciliation," he said.
Meanwhile, a blood donation campaign that was organised by the Uthayan had also been cancelled today.
The Uthayan staffer who spoke to Daily Mirror said the mobile donation unit that was supposed to arrive at the office did not turn up and that hospitals in the area refused to accept blood claiming 'their blood banks were full'.
Similar restrictions of access were reported at the Yal Thinakkural office in Jaffna as well.
Unwanted situation – Military


Security Forces Commander of the North, Major General Udaya Perera said the increase of military presence near the Uthayan newspaper office and several other locations in Jaffna was due to information received on the likely development of an 'unwanted situation' in the areas.

He said that they had only established road blocks in the areas to check vehicles and people who pass the way and that access was not completely restricted.

"So we took immediate steps upon receiving the security alert to increase security as we don't want the army to be blamed," he added.
(Lakna Paranamanna)
DM