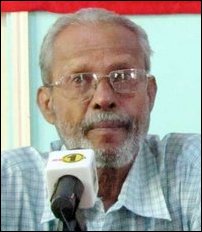 CVK Sivagnanam
The residence of Mr CVK Sivagnanam, a veteran civil activist and joint-secretary of the Ilangkai Thamizh Arasuk Kadchi (ITAK), has been attacked Tuesday night around 11:45 p.m. by alleged operatives of the SL military in Jaffna. Mr Sivagnanam narrowly escaped from the squad that stoned his residence. The attackers, who smashed the windows of the house, left the scene after the neighbours confronted them. The incident comes following reports that Mr Sivagnanam had shown interest in fielding himself as the chief candidate in the Provincial Council elections on behalf of the Tamil National Alliance (TNA), news sources in Jaffna said.
Mr Sivagnanam's residence is located close to Chaddanaathar temple in Nalloor on Jaffna – Point Pedro Road, an area heavily monitored by the SL military and Police during the night time.
The ITAK joint-secretary, who sustained minor scars in the attack, said the SL Police was not prepared to come to his residence when he phoned the Jaffna Police Station. In turn, he was told to come to the Police station in person and file a complaint.
The SL police didn't show up at the site even as 8 hours have passed since the attack reported to them, Mr Sivagnanam told media Wednesday morning.
Mr Sivagnanam heads the Council of NGOs in the Jaffna district. The SL military has threatened his organisation on several occasions from expanding its activities into the war-ravaged Vanni region.
In a similar act of threat, heads of dead cows were dumped in front of the entrance to his house in November 2011.
Threat to journalists and civil activists has sharply escalated in recent times in the occupied country of Eezham Tamils.
The SL President Mahinda Rajapaksa is planning to hold the elections to the Provincial Council in North, playing his part of deception in the run up to the CHOGM summit in Colombo, a deceit against the nation of Eezham Tamils, civil activists in Jaffna said.
[TamilNet, Wednesday, 08 May 2013,]