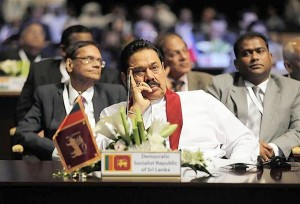 File photo of Sri Lanka's President Rajapaksa attending World Energy Forum at the Dubai World Trade Centre
(JUMANA EL HELOUEH, REUTERS / November 18, 2012)
Frank Jack Daniel Reuters
JAFFNA, Sri Lanka (Reuters) – From foreign hotel towers sprouting on Colombo's seafront to the new motorbikes and mobile phones buzzing in war-ravaged Jaffna, at first glance, Sri Lanka seems to be living up to its claim as Asia's latest frontier market.

But private businesses are not investing enough, threatening the boom that has swept the island since the end of a long ethnic conflict, while President Mahinda Rajapaksa and his family are tightening their grip on the economy and institutions with what critics see as an unusually personalized system of government.
The global economy may be in poor shape, but with 17 percent growth since the war ended in 2009 and an eye-popping 200 percent rise in the stock market, investors should be flocking to Sri Lanka's palm-fringed shores.
Instead, even home-grown businesses are shy.
The government reported $1 billion of foreign direct investment (FDI) last year, a record, but even officials accept that is not enough. More worrying, because it raises questions about the reliability of official data, the United Nations put FDI at just $300 million last year, its lowest level since 2005.
There are several possible explanations, but critics say that by making Sri Lanka something of a personal fiefdom and dragging his feet on reconciliation between the ethnic minority Tamil-dominated north and the majority Sinhalese Buddhist population, Rajapaksa shoulders some of the blame.
The president and his brothers control ministries and departments accounting for about 70 percent of the budget, including finance and defense. His elder son is an elected legislator and his eldest brother is the speaker of parliament, where the president holds a more-than two-thirds majority.
"A handful of people seems to have captured both political authority and the economy," said Harsha de Silva, spokesman on economic affairs for the main opposition United National Party.
"Almost four years after the end of the war, we are yet to see any established investors setting up businesses, apart for some big hotel chains."
One Rajapaksa brother, Economic Affairs Minister Basil Rajapaksa, justified the system, telling Reuters that politics was a family affair everywhere from the United States to India and pointing out that he and his relatives were elected parliamentarians.
"It is a dynasty, but by people's choice, a people's dynasty," he said in an interview, and suggested that more, rather than less, concentration of decision-making would help investment in a country where multiple permits slow start-ups.
"In other countries who are successful, they were successful because immediately one person he takes the decisions. In Sri Lanka, the main problem is that that is not there, more decisions have to be centralized."
Opponents say the extensive control of commerce by the president and his family is at the root of the country's problems.
"Half of all the ministries which are engaged in businesses are controlled by Rajapaksa family under his ruling. That is the main problem we are facing today," said Sunil Handunnetti, an opposition parliamentarian with the Marxist Janatha Vimukthi Peramuna, which used to support the president.
INDIANS AND CHINESE
Whatever the rights or wrongs of the argument, the investment shortfall is a problem for President Rajapaksa, whose goal of 8 percent annual economic growth largely rests on foreign inflows in the form of debt from multilateral lenders and friends like China.
Economists say this is not sustainable in the long run.
The president's model of rapid infrastructure development has helped Sri Lanka bounce back more successfully than most post-war countries, but economists and businesses are wary.
With Sri Lanka tipped as the top destination of 2013 by the Lonely Planet travel publisher and visitors up 30 percent last year, global hotel brands are lining up. But few are investing heavily, preferring to tie up with local players, some of which have links with the government.
Copyright © 2012, Reuters
Chicago tribune