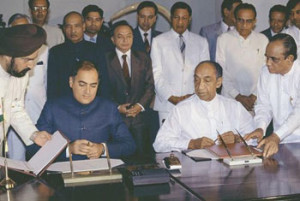 Indo- Lanka Agreement singed in 1987
Raj Chengappa
The decision to increase engagements with Sri Lanka in the area of defence shows the realisation has ultimately dawned on the UPA government at the Centre that relations with India's neighbours cannot be allowed to be dictated by state-level parties. If there is a clash between the interests of the nation and those of a state, the former should get precedence. It is, therefore, in the fitness of things that Defence Secretary Shashikant Sharma had wide-ranging talks with his Sri Lankan counterpart Gotabaya Rajapaksa in New Delhi on different issues related to defence. Sri Lanka is a very important neighbour of India and had been eagerly looking for different kinds of help from New Delhi.

The Tamil Nadu-based political formations like the AIADMK headed by J. Jayalalithaa and the DMK led by M. Karunanidhi have been opposed to any kind of defence-related arrangements with the island-nation because of their party interests. The sentiments of the Tamils, of course, must be taken care of for protecting the unity of the country. The Tamils in India find it difficult to forget what happened to the Tamils in Sri Lanka at the hands of the armed forces there during the fight between the Sri Lankan army and the Liberation Tigers of Tamil Elam (LTTE). The suffering of the Sri Lankan Tamils affected the psyche of the people in Tamil Nadu considerably.
But this is only one aspect of how to protect India's interests in Sri Lanka. People in the state need to be convinced that the interests of the Tamils in the island-nation cannot be protected by keeping aloof from the developments in that country. There are similarities in the interests of the Indian Tamils and those of the nation as a whole. The people of the state need to be educated about the whole matter by asking them to be pragmatic, keeping their sentiments aside. India cannot afford to allow to China and Pakistan to take advantage of the complications in India's relations with Sri Lanka. Already China has strengthened its position in Sri Lanka with its increased involvement in various strategic projects there. We must not be guided by sentiments alone.
(The writer, editor in Chief, The Tribune)
SLG