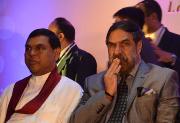 Ministers Sharma & Basil R
Setting out an ambitious plan, India yesterday outlined extensive investment potential in Sri Lanka centred on infrastructure, tourism and pharmaceuticals apart from offering preferential access to double trade to $ 10 billion by 2017.
Indian Commerce, Industry and Textiles Minister Anand Sharma, who is on a three-day visit to the country, stated at a press conference that the two countries had agreed to establish a Manufacturing Investment Zone in Trincomalee.

Following discussions Sharma had with his counterparts Economic Minister Basil Rajapaksa, Commerce Minister Rishad Bathiudeen and Senior Minister Sarath Amunugama, the two countries have agreed to set up a Task Force.
Sharma insisted that their component of the Task Force will be finalised by the end of Friday and that they would consider investment opportunities and present them to the Indian Government within 90 days. He said this would help fast track the economic relationship between the countries."
The Secretaries of Commerce of both countries have also been requested to work in closer coordination so as to ensure the faster strengthening of ties between the economies.
Officials of both countries must work together on a road map to improve relationships between the countries.
"I have also been made to understand that there are over a billion worth investments is in the pipeline."
The planned zone would concentrate mainly on engineering and manufacture of auto-parts for India's thriving automobile industry, concentrating mainly on the hubs in South India.
The Task Force will also have industry representatives from pharmaceutical, construction, engineering, auto manufacturers and skills development sectors in addition to public officials from both Governments.
"We are also interested in investing in the pharmaceutical sector in Sri Lanka and there will be an industry delegation arriving in Sri Lanka within the next 30 days," Sharma noted, adding that India was focused on diversifying investment to the island nation.
Stressing that the potential between the two countries remains largely untapped, Sharma was heavy in his praise of the relationship between the two countries. He also emphasised that the Indian Government was keen on increasing exports from Sri Lanka and the manufacturing zone together with the pharmaceutical sector would provide this balance.
Sharma is heading a high-powered business delegation to Sri Lanka that includes representatives of 105 companies that are also holding an exhibition in the capital city.
Following discussions with Sri Lanka's Commerce Minister, the two sides have also agreed to recommence negotiations on the Comprehensive Economic Partnership Agreement (CEPA) that has stalled since 2008, to further broaden the current US$ 5 billion worth of trade.
Sharma revealed that CEPA had come up for discussion during his ministerial meetings and that since recommencing negotiations had been agreed to during President Mahinda Rajapaksa's visit to India in 2010, the Commerce Secretaries of both countries would be sitting down to take the agreement forward.
"There are no issues so complex that Sri Lanka and India cannot solve amicably. The Free Trade Agreement definitely increased trade and CEPA will add to this process. Trade agreements have become a global mantra and I have no doubt that this is the most rewarding step for Sri Lanka."
Responding to a question on oil exploration, Sharma said that Indian companies had the capacity and resources to compete with other countries and handing out blocks in the Mannar basin was a decision for the Sri Lankan Government to make.
Earlier on addressing the opening of the 3-day India Show Minister Sharma said as of now Sri Lanka is India's largest trade partner in South Asia and India in turn is Sri Lanka's largest trade partner globally. India is also among the top five investors to Sri Lanka and is the top source of tourist arrivals here.
"We have recognised Sri Lanka's potential and the ability of human and natural resources," Sharma said. Even though the number of Sri Lankan companies opening shop in India has increased over the years, the Minister noted that the country wanted more and more Sri Lankan exporters in India.
There are also new avenues opening up in Sri Lanka from which Indian investors could benefit. "India is committed to support Sri Lanka not just through the Free Trade Agreement but by giving preferential access to India, which is now noted as one of the biggest economies in the world."
He noted that the Indian companies could play a large role in the country's infrastructure development projects as there were a large number of internationally acclaimed infrastructure development companies in India.
Sharma also stated that the two countries had common issues to battle. "When it comes to development, wealth creation and redistribution of wealth, both countries are facing the same," he said. "However, we are very happy that Sri Lanka has been able to overcome a period of war and for giving the people a vision for growth and opportunity. Science and technology, skills and vocational training, and information technology has led India to a global position today. We are confident that in working together particularly in a knowledge hub, both countries will be able to achieve growth and prosperity."
India too should take lessons from Sri Lanka to increase the social ranks of the country in terms of literacy, etc., he noted.
India Show, held for the third year, is one of India's key strategies to brand the country. Supported by the Ministry of Commerce and Industry India, Confederation of Indian Industry (CII) and India Brand Equity Foundation (IBEF), the show will consist of a three-day exhibition held at the BMICH, an India-Sri Lanka Business Seminar, one-to-one business meetings, a high level CEO business delegation meeting, a wine festival by Agricultural and Processed Food Products Export Development Authority (APEDA) and a cultural evening by Indian Council for Cultural Relations (ICCR).
Also at the event, Senior Minister of International Monetary Cooperation Dr. Sarath Amunugama listed out five points as to why Indians should invest in Sri Lanka. "The key point is that, emerging from a 30-year war, Sri Lanka has now created a platform for peaceful and rapid growth – a conducive area for businesses to develop."
The Government has also invested greatly in infrastructure development; the country is located in a strategic geographical location important as a geopolitical landmark for trade, has high skilled human resources available, and there are common values and institutes between the countries, he said.
"On top of the five points, Sri Lanka has also pioneered a Strategic Investment Law, which will greatly help increase trade between the countries."
CII Director General Chandrajit Banerjee stated that 108 Indian companies were participating at the exhibition while a total of 205 participants from India had arrived in Sri Lanka for the show. A high-powered business delegation which includes 27 CEOs and businessmen from India is also in the country, he said.
The Chief Guest for the inauguration was Minister of Economic Development Basil Rajapaksa. A handbook titled 'Doing Business with Sri Lanka' was also launched at the event.

By Uditha Jayasinghe and Cheranka Mendis
FT