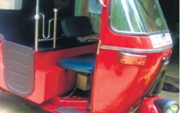 The government stressed the need to further restrict imports from India by amending the South Asia Free Trade Agreement (SAFTA), in order to boost the development of local industries, informed sources said.

President Mahinda Rajapaksa, at the Cabinet meeting, instructed the Industry and Commerce Ministry to amend SAFTA and do away with the sensitive list. The government has sought to remove 208 varieties of goods being imported into the country from the countries in the SAARC region. Most of these are imported from India.
It was pointed out at the meeting that even such items as joss sticks were imported under this agreement and, therefore, it was high time Sri Lanka developed its local industries.
Among the items sought to be removed from the sensitive list, are infants' milk food, safety razor blades, spoons, forks, ladles, knives, skimmers, sugar tongs, aluminums bars and harvesting and threshing machinery.
The Trade and Commerce Ministry submitted a Cabinet paper in this regard, and sought the approval of the government to go ahead. Informed sources said that the decision was taken after due consultations with the business community and local manufacturers.
"Most countries in the region have reduced their sensitive lists under SAFTA. However, we are late. We have to do it," a source said.
According to sources, the President had asked the Ministry to go ahead with the decision after further consideration of the pros and cons involved