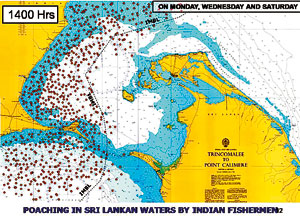 File photo form Sunday Times
Mannar Bishop to take up poaching crisis with TN .
Mannar Bishop the Rt. Rev. Dr. Rayappu Joseph said he intended making representation to Tamil Nadu Chief Minister Jayalalithaa Jayaram and DMK Leader Muthuvel Karunanidhi with regard to poaching by Indian fishermen and that he would demand immediate action be taken against them.

"This has nothing to do with politics. It is a humanitarian issue which needs to be resolved. Indian boats come as close as 500 meters from the coastline and they come in their thousands. On the days these boats come our people do not go fishing because they are frightened of doing so," the Bishop told Daily Mirror.
He said the Sri Lankan fishermen have taken a defiant stand against poaching by the Indians but to no avail.
"Our fishermen have done all they can to urge the government to take action against this blatant robbery of their livelihood. They have held protests by placing the boats on the road and various other means but nothing has happened so far," he said and added that he had raised this matter on numerous occasions at the Bishops Conference.
Bishop Joseph said the issue getting out of control with the fishermen finding it extremely difficult to even cover the cost of fuel for their outboard motors because of the depleted catch of fish.
"These boats can be spotted in the evening from the coast because they come so close to the shore. The use of bottom trawling by Indian fishermen has resulted in the entire sea bed being destroyed. Our fishermen do not engage in such illegal activities because they are not industrialized. They often return empty handed," he said.
(Hafeel Farisz & Darshana Sanjeewa) Friday, 11 October 2013
DM