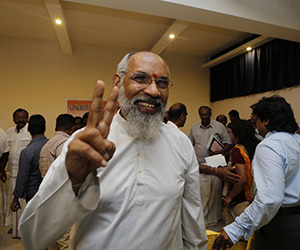 TNA CM candidate C.V. Vigneswaran
NEW DELHI: Welcoming elections to three Sri Lankan provincial councils, including the Northern, India today said the government there has honoured its commitment while asserting that it was looking forward to implementation of other important commitments such as 13th amendment of the Constitution.
The Ministry of External Affairs said the high voter turnout and the enthusiastic participation of various political parties demonstrate the continuing commitment of the people of Sri Lanka to democratic values and elections for representative bodies at various levels, including the Provincial Councils.
"We have taken note of the observations made by election observers from the Forum of South Asian Election Management Bodies and also the Commonwealth. Overall, it has been acknowledged that the will of the people has been reflected at these elections," it said in a statement.
The MEA said Sri Lankan government has honoured its commitment to the international community to hold elections to the Northern Provincial Council.
The polls were held on September 21. Sri Lanka's main party Tamil National Alliance (TNA) secured a landslide win in the historic polls held after a gap of 25 years in the former LTTE-ruled Northern Province which has Tamil majority.

"We look forward to the implementation by Government of Sri Lanka of other important commitments made to the international community, including the full implementation of the 13th Amendment and going beyond it."
The MEA said it has noted the positive statements made by the TNA and the government of Sri Lanka which is a matter of satisfaction that both sides have expressed willingness to work with each other for the progress of the people of the Northern Province.
"We would urge both sides to engage constructively, in a spirit of partnership and mutual accommodation, so that the urgent needs of the people of the Northern Province, which has recently emerged from the throes of a thirty-year long armed conflict, are addressed with a sense of urgency and purpose," the MEA said.
Observing that only a cooperative approach will pave the way for genuine reconciliation between the communities involved, it said it was committed to working with both sides.
"The Government of India is committed to working with both the sides to further this process, so that all communities in Sri Lanka, including the minorities, can feel that they are equal stakeholders in a united Sri Lanka and can look forward to a future marked by equality, justice, dignity and self-respect," it said.
IT