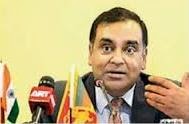 Y. K. Sinha in damage control ..
Amal Jayasinghe
Colombo: India has asked Sri Lanka to grant limited autonomy to its ethnic Tamil minority and ensure "genuine reconciliation" five years after crushing Tamil guerrillas, New Delhi's top envoy said on Friday.
Indian high commissioner (ambassador) Y. K. Sinha said New Delhi had also urged Colombo to probe allegations that its troops killed thousands of Tamil civilians in the final months of fighting in 2009.
"Our emphasis has been to encourage the government of Sri Lanka to show concrete movement towards a meaningful devolution of powers," Sinha told the Foreign Correspondents' Association of Sri Lanka.
"It is our hope that the government of Sri Lanka, recognising the critical importance of genuine reconciliation, acts with vision and sagacity."
Sinha's remarks came after New Delhi abstained from voting on a US-initiated resolution censuring Colombo at the UN Human Rights Council (UNHRC) and approving establishment of an international probe into war crimes allegedly committed by Sri Lankan troops and Tamil Tiger rebels toward the end of the conflict.
Sinha made it clear that despite its abstention, India wanted Sri Lanka to address war crime accountability issues and ensure devolution of powers as a way of deflecting mounting international pressure on Colombo.
Sri Lanka's constitution stipulates power-sharing with the minority Tamil population but the provisions have never been fully implemented.
Sinha said New Delhi also wanted Colombo to reduce "high security zones" of the military which occupy private land in the island's former war zones and address the issue of thousands of people said to have gone missing during and after the war.
The Indian envoy's remarks came a day after the US ambassador in Colombo, Michele Sison, asked Sri Lanka to cooperate with the UN-ordered international probe into war crimes, although President Mahinda Rajapakse told AFP last week his government rejected the latest UNHRC censure motion.
The latest resolution asked UN rights chief Navi Pillay to investigate actions of both government forces and Tamil rebels during a seven-year period leading up to the end of Sri Lanka's nearly four-decade-long separatist war.
Pillay told the council last week that it was crucial to recall the "magnitude and gravity" of the violations allegedly committed by both the government and the rebels, notorious for their suicide bombings.
The 1972-2009 conflict claimed 100,000 lives, according to UN estimates.
Some politicians from southern India, where there is a large ethnic Tamil population who are sympathetic to their fellow Tamils in Sri Lanka, have voiced misgivings about New Delhi's abstention in the UN vote, according to Indian media reports. AFP