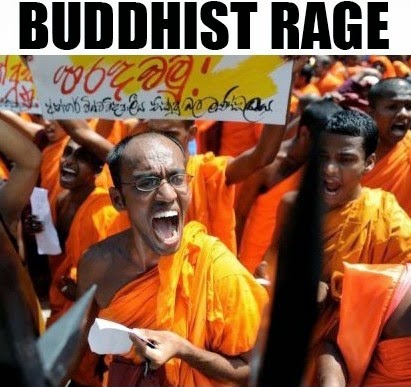 (Newsweek cover photo)
Dipanjan Roy Chaudhury,
NEW DELHI:
Security experts have expressed serious concerns over the recent riots in Sri Lanka, and have stressed the need for Colombo to take steps to control the situation, fearing that riots may be exploited by 'foreign elements' wanting to carry out a terror strikes in southern states of India. Delhi is equally apprehensive the riots may have been encouraged by elements wanting to create a situation whereby the affected Muslims in Sri Lanka get marginalised and thereby offer a breeding ground for recruiting terror operatives.
The matter, which did not get much media coverage in India, is likely to be raised with Colombo on an urgent basis, an official source told ET.
The fears have got compounded with the recent admission of the Sri Lankan Foreign Minister GL Peiris about 'foreign instigation' behind the communal riots and killing in different parts of Sri Lanka. As many as 119 people, including 95 Sinhalese and 24 Muslims, have already been arrested in connection with the riots by Sri Lankan authorities. Lankan Criminal Investigation Department (CID) has been grilling the General Secretary of Bodu Bala Sena (BBS) or Army of Buddhist Forces, Galagoda Atthe Gnanasara, and its National Organiser, Witharandeniye Nanda, for the riots that have killed several and injured many.
Counter-terrorism experts are uncomfortable with the silence of Jamaat-ud-Dawa Chief Hafiz Saeed, and see a larger game plan of the ISI/Lashkar to wait and watch before going on a Jehadi recruitment drive.
Indian security & intelligence agencies need to analyse whether this is yet another attempt by the former Lashkar-e-Taebbya boss Saeed to use the riots for religious indoctrination in the island nation and try to encircle India. This will further prompt Delhi to move Colombo on the issue, as the aggrieved nationals could be brainwashed to join extremist groups, an official hinted.
Sri Lanka, on its part, would need to review its bilateral engagement with Pakistan, to prevent its socio-ethnic fabric, which is yet to heal from the wounds of the 'LTTE era', to get re-scarred with a possibly more damaging 'Islamic radicalisation'.
The worries of India are not without reason, considering it comes close on heels of the arrest of Sri Lankan national Mohammed Sakir Husain's who recced India for terror strikes.