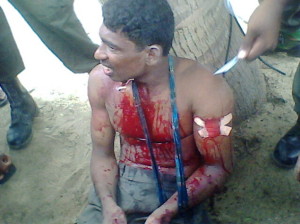 LTTE leader in military custody who found cut to death later
India would definitely extend its support to the United Nations Human Rights Committee (UNHRC) when it would visit Sri Lanka to study the allegations of massive human rights violations during the final phase of the war against the LTTE in 2009, says Union Minister of State for PMO V Narayanasamy.
"Not only in Sri Lanka, if war crimes and human rights violations are reported in any part of the world, India will not remain a mute spectator and will strongly oppose it," Narayanasamy said.

He said that the Prime Minister will nt allow Human Rights violations to take place in any part of the world.
In march this year, India along with 24 countries voted against Sri Lanka today at a session of the United Nations Human Rights Council in Geneva. The US had sponsored resolution for 'promoting reconciliation and accountability' in Sri Lanka after the army defeated the Tamil Tigers in a 26-year-long civil war. UNHCR is one of the main providers of humanitarian assistance to IDPs and returnees in Sri Lanka.
India is Sri Lanka's largest trade partner overall and Sri Lanka is India's largest trade partner in South Asia. India has emerged as the largest foreign direct investor in Sri Lanka. India also contributes to the largest number of tourists arrivals in Sri Lanka