Image: Two Journalists Tharindu Jayawardena and Tharindu Uduwaragedara are well known for reporting on issues related to human rights.
Two journalists representing the Young Journalists' Association of Sri Lanka have filed a fundamental Rights petition at the Supreme Court requesting  that the imposition of a police curfew outside the provisions of the law by the Inspector General of Police on July 8, to declare that fundamental rights were violation.
The fundamental rights petition has been filed by  the two journalists, Tharindu Jayawardena and Tharindu Uduvarana, representing the  Young Journalists Association.
Inspector General of Police Chandana Wickramaratne and the Attorney General Sanjay Rajaratnam have been named as respondents in the fundamental rights petition filed through a group of lawyers consisting of lawyer Hejaaz Hizbullah and lawyer Ramzi Bacha.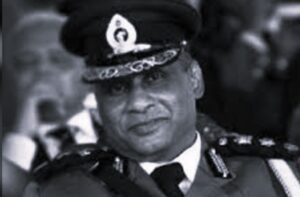 In the petition, it is stated that the respondent Inspector General of Police has announced the imposition of police curfew on the 8th of July 2022 from 9.00 p.m. until further notice. It is mentioned in the fundamental rights petition that although it was announced that the curfew would be lifted at 06:00 the next morning in Gampaha district, the Gampaha division was not included in the curfew announcement.
The imposition of police curfew is illegal, arbitrary and has no legal basis, argues the petition.
The two journalists state that this is an abuse of power with a malicious ulterior motive, also point out that this has been done with the aim of preventing the participation of the citizens in the protest that was scheduled to be held the next day by abusing the power when it was not possible to ban by a court order.
Read the petition in Full as a PDF: Tharindu & Tharindu FR July 2022
It is stated in the petition that due to the illegal curfew imposed by the first respondent, the public transport services including trains were stopped, causing inconvenience to the citizens and even themselves as journalists.
Through this fundamental rights petition, the two journalists have requested to declare that several fundamental rights protected by the constitution have been violated due to the arbitrary action of the Inspector General of Police.