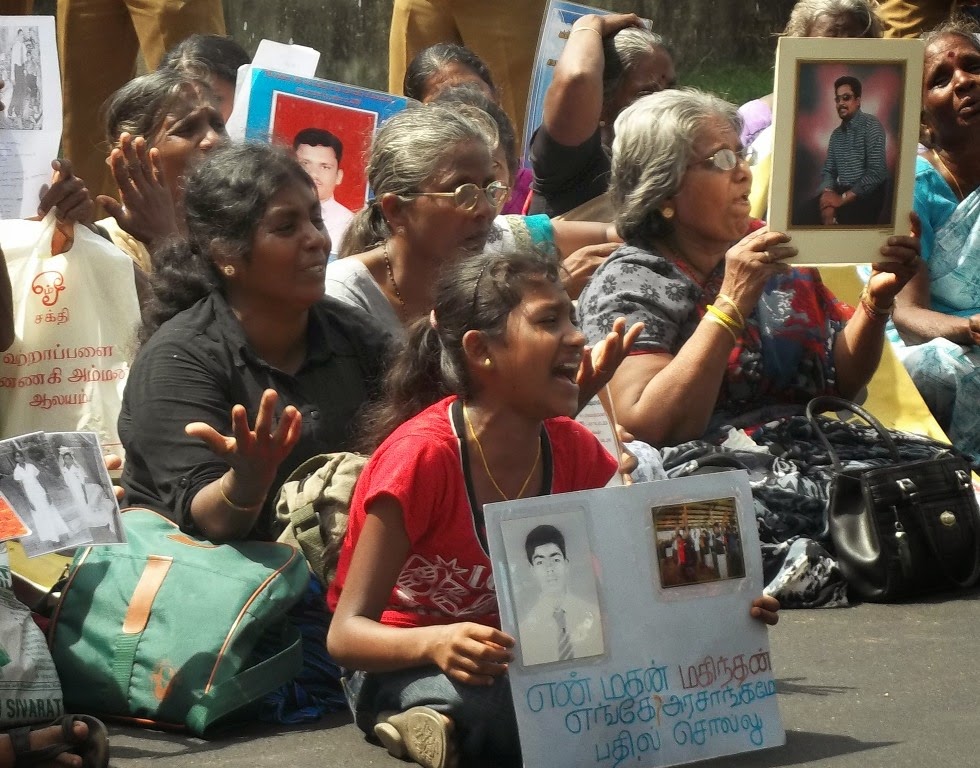 Jayakumari and her daughter ( photo: Freddy Gamage)
Re: Siege at the home of human rights defender Ms Balendran Jayakumari
On 13 March 2014, human rights defender Ms Balendran Jayakumari and her 13-year-old daughter were detained in their Killinochchi home in northern Sri Lanka from approximately 4pm until 10pm. There are reports that Balendran Jayakumari and her daughter have now been brought to Vavunia for further investigation. Balendran Jayakumari has been a leading voice in demanding to know the whereabouts of missing persons who have been arrested by the Criminal Investigation Department (CID) of Sri Lanka. The human rights defender and her daughter have featured in various video documentaries on the disappeared.
Additionally, she has mobilised families in Killinochchi to attend various hearings, protests and meetings and has received visiting diplomats and media personnel. She is the mother of three boys, two of whom have been killed and one of whom is missing, as well as her daughter.
At approximately 4pm on 13 March 2014, Balendran Jayakumari phoned a local politician to complain that her house had been surrounded by army personnel. At 4:30pm an activist and friend of the human rights defender called her and reported that a man intercepted the call and demanded to know who she was and why she was calling the human rights defender. The activist replied that her child is sick in hospital and that she needed Balendran Jayakumari's help, at which point the man cut off the call. After the call, the phone was switched off and no further communication was possible with the human rights defender.
That night, a police spokesperson stated on BBC Tamil that a shooting incident had taken place in Tharmapurum that morning in which a police officer had been injured. He stated that the suspect had escaped but that the house where the suspect was hiding had been identified and two women are being investigated.
In Sri Lanka, the protracted civil war between the government and the Liberation Tigers of Tamil Eelam (LTTE) resulted in continuing violence and political tension which still obstructs the work of human rights defenders. The freedoms of expression, assembly and association are seriously limited in the country.
Front Line Defenders is concerned that the house arrest and continuing investigation of Balendran Jayakumari and her daughter are solely motivated by the human rights defender's peaceful and legitimate work for justice and a free and open society in which all human rights are respected.
Front Line Defenders urges the authorities in Sri Lanka to:
Immediately and unconditionally release human rights defender Balendran Jayakumari and her daughter as the investigation against them is solely motivated by her peaceful and legitimate work in defence of human rights;
Carry out a thorough, impartial and immediate investigation into the killing of Balendran Jayakumari's two sons and the disappearance of the other with a view to publishing the results and bringing those responsible to justice in accordance with international standards;
Guarantee in all circumstances that all human rights defenders in Sri Lanka are able to carry out their legitimate human rights activities without fear of reprisals and free of all restrictions
– Front Line Defenders