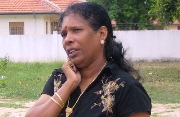 Imelda Sukumar
Sri Lanka Government Agent in Jaffna, Mrs. Imelda Sugumar has been ordered to hand over her responsibilities in Jaffna and take up an unspecified post at the SL President's Office in Colombo, news sources in Jaffna said. From the beginning, Imelda's tenure in Jaffna was blighting the interests of SL minister and EPDP leader Douglas Devananda.
She was a pawn in the power struggle between Basil faction and Gotabhaya faction in the Rajapaksa regime, and in a larger sense was manipulated by the contending powers, India and the USA, political observers said. Even though news circles in Jaffna speculate that Devananda and the Colonial governor Chandrasri who seeks sole recognition for him from the visiting foreign dignitaries achieved her transfer, informed circles say that she has been promised with a diplomatic assignment in India.
In recent times Imelda was vocal in opposing some of the activities of the colonial governor. In turn, the military governor Maj. Gen. Chandrasri as well as the SL minister Douglas Devananda were critical about foreign diplomats meeting the SL Government Agent in Jaffna.
According to them, the Sinhala governor should be the sole authority the foreign dignitaries should meet.
Imelda was a checkmate to certain electoral manipulations of Devananda. But from her side there were attempts to start a political party, informed sources said.
Meanwhile, names ranging from the current SL Government Agent in Batticaloa to some Sinhala civil servants are tipped to the vacant post of Colombo's genocidal regime in Jaffna
TN