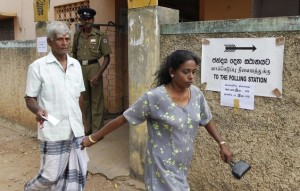 'Then FM' allegedly promoting Pillaiyan, 'Risala FM' promoting Hisbullah, 'Pirai FM' (Crest FM) allegedly promoting Athaulla beyond the deadline ;
Salley accuses Govt. of withdrawing security;Rajapaksha govt is anti minority
The transmission of two illegal radio stations, which engaged in election campaigning in the Eastern Province, have been brought to the notice of the Election Commissioner, Mahinda Deshapriya, sources said .

Ceylon Today learns the two illegal radio stations have been regularly carrying statements and speeches made by former Chief Minister of Eastern Province, Sivanesathruai Chandrakanthan alias Pillaiyan and Deputy Minister M.L.M. Hisbullah, who are both contesting for the forthcoming Eastern Provincial Council Elections.
The transmission promoting the Ex Chief Minister's faction has been named 'Then FM' and the transmission promoting the Deputy Minister, Hisbullah, 'Risala FM,' sources said.
It is learnt, the complaints were made to the Election Chief three days ago. However, the Telecommunication Regulatory Authority of Sri Lanka (TRSL) Director General, Anusha Pelpita, said he had not received any details on the illegal transmission, and due action would be taken against any channel which transmits without prior approval.
Responding to an allegation with regard to the transmission of Sri Lanka Broadcasting Corporation (SLBC) known as `Pirai' FM (Crest FM), promoting a candidate even beyond the time allocated for campaigning, he said the Media Ministry was mainly responsible for the programmes and what they contained, whereas the TRCSL has nothing to do with the production of programmes or whatever that on-air.
Campaign for Free and Fair Elections (CaFFE) Executive Director, Keerthi Tennakoon, also confirmed the transmissions of the two illegal radio stations, which were even misleading the listeners in the Ampara District. "One of the transmissions was relaying matters against the UPFA Government and the other was on the war path against the Sri Lanka Muslim Congress," he said.
He said the SLBC's `Pirai' FM has continued to promote A.L.M. Athaulla – going beyond even the allocated propaganda time slot.
Tennakoon said he has even taken up that matter with Elections Commissioner; however, no action had been taken so far by the Election Department over the transmission.
Whereas the Deputy Elections Commissioner, M.M. Mohamed, said yesterday, they did not receive any information on the alleged illegal radio stations operating in the areas where the voting is taking place today, 8 September
By Ifham Nizam
CT

Salley accuses Govt. of withdrawing security;Rajapaksha govt is anti minority
The Sri Lanka Muslim Congress (SLMC) Batticaloa District candidate Asath Salley has accused the Government of withdrawing his security and said despite the Election Chief's directives, the Government was reluctant to reinstate his security which was withdrawn on Tuesday.
Speaking to Ceylon Today Salley said the Election Commissioner has requested the IGP to provide him with security immediately but so far nothing happened.
"On Tuesday, the ASP of the area told me to have two security personnel. Then after a while, the two security personnel were withdrawn. During the elections period, the Commissioner of Election has the authority. The secretaries of all political parties were present when the Commissioner mentioned that the security should be provided," he said.
Commenting further on the situation Salley said, the Government would definitely lose in the forthcoming poll. "There is 42% Muslims, 38% Tamils and 20% Sinhalese in the Batticaloa district and the election has to be decided by these communities. The Government is trying its best to show the outside world that the Muslims and Tamils are with it. "
"The present United People's Freedom Alliance (UPFA) Government led by President Mahinda Rajapaksa is an anti minority government. Just for a few minutes visit to Kathankudi and Eravur in the Eastern province, the President has spent Rs.60 million for the deployment of gun boats in the coastal areas of Kathankudy. Several ministers have visited the areas in the East but they were not bothered to develop the areas," he said.
photo:The Hindu
By Camelia Nathaniel
CT