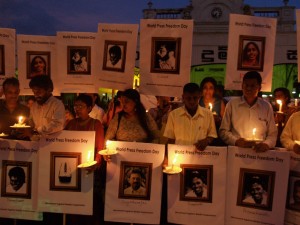 Vigil for assassinated journalists in Sri Lanka o( 2008 file photo)
The International Federation of Journalists, in collaboration with partners and affiliates released situation reports on journalists' rights and the state of media freedom in Bangladesh and Sri Lanka. The information presented in the reports is the result of extensive consultations between the IFJ and its partners, field visits and interviews by IFJ personnel in the two countries.

The reports highlight the current priority areas for campaign and advocacy work in the two countries and identify focus areas for future international solidarity actions.
In Bangladesh, the deeply polarised nature of national politics continues to create fissures within the media, with owners, who are often compelled to take sides, pressuring professional staff. Political contention is likely to mount as the country approaches national Parliamentary elections in 2013. Constitutional amendments enacted by the current government in 2011, ostensibly to imbed what it portrays as the values of Bangladesh's liberation struggle, have led to serious discord, and opposition protests have been mounting, particularly against a clause which does away with the system of holding national elections under neutral, caretaker administrations.
After several false starts, the process of bringing to account individuals accused of crimes and atrocities during Bangladesh's 1971 war of liberation began in 2011. But the pressures and political sensitivities associated with the proceedings of the International Crimes Tribunal – a body created by Bangladesh national law –have not abated despite broad consensus on the need for accountability. Media reporting on the proceedings of the tribunal has often come under the scrutiny of the tribunal, which has twice held particular newspapers and journalists guilty of contempt.
There have been multiple cases where particular newspapers have been charged under the defamation law. The allocation of broadcast spectrum for television channels is often seen to be a source of exerting control and a form of censorship.
Safety issues were highlighted by the brutal twin murder of a journalist couple in the capital city Dhaka, in February, and in a number of retaliatory attacks by political actors, for reporting deemed as critical.
Bangladesh's journalists began a campaign in February 2012 to secure a new wage accord for themselves. Under national law, statutory bodies are required to be created every few years to ensure that journalists' wages and working conditions are appropriate to their requirements of sustaining a high level of professional motivation and commitment. These efforts were rewarded in June 2012, when a wage board comprising representatives of the journalists' unions, the media industry and government was constituted under the chairmanship of a former Supreme Court judge.
Important policy changes in recent times have enabled a growth of community radio in Bangladesh, though licensing processes are seen as excessively complicated. A right to information bill enacted in 2009 promises greater accountability and transparency in governance, though it is seen to grant too many exceptions and the number of those who have been motivated to use it, is still very modest.
IFJ partners in Sri Lanka have been campaigning for media freedom to be recognised as an essential part of the process of national reconciliation, following the end of the country's quarter-century long civil war in 2009. Their efforts are yet to be recognised, since few reforms have been implemented in the media sector and the recommendations of a high-level commission on national reconciliation remain largely on paper.
Media reporting on the process of resettlement and rehabilitation in the country's Northern Province, which suffered the worst ravages of the civil war, has often been impeded by security personnel who continue to be deployed there. And far from assuring accountability for the number of attacks and killings of journalists during the war, the pattern of violence has persisted in the years following.
Journalists and human rights defenders are often attacked by official spokespeople on government-controlled media channels, contributing to an atmosphere of intolerance for even legitimate criticism of the government. Websites that carry news and current affairs content on Sri Lanka have been subject to arbitrary rules of registration and in some cases, to police raids and seizure of equipment.
Financially vulnerable media houses have been subject to further pressures as increased costs passed on from banks and financial institutions threatens their sustainability. In addition, change of ownership has often resulted in rapid changes in editorial policies and personnel.
The revival of the Press Council of Sri Lanka is seen to embody a very real coercive intent on the part of the government, since the 1973 law under which the body is constituted conceives of a number of possible sanctions against the media, including the power to prosecute under various provisions of criminal law. The Sri Lanka Press Complaints Commission, a self-regulatory body set up by the media industry, has been seeking to establish its credentials as an institution that is fully equipped to deal with current challenges.
The situation reports on Bangladesh and Sri Lanka were prepared with the financial support of UNESCO, under the International Programme for the Development of Communications (IPDC). The report on Bangladesh is available in English and Bangla and the report on Sri Lanka, in English, Sinhala and Tamil.
The reports can be found
here.
For further information contact IFJ Asia-Pacific on +612 9333 0950
The IFJ represents more than 600,000 journalists in 131 countries