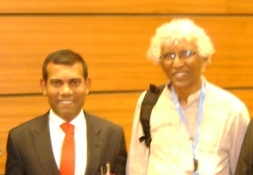 Mr. Sunanada with President Mohammad
Our Correspondent in Geneva
"In the news bulletins of the government and pro-government media it was reported that Maldives president Mohamed Nasheed accused me of being a disgrace to the country in answering a question by me after the screening of the film in Geneva recently. I never asked any question and President Nasheed didn't say anything like what the Colombo media reports," Mr. Sunanada Deshapriya says in a telephone conversation with the Sri Lanka Guardian from Geneva.

According to the news carried by the government's own media, "The president of the Maldives Mohammad Nasheed has told the former head of the Free Media Movement that it is a disgrace to work against one's own country. The former head questions the rights of the president to speak about Sri Lanka after the screening the film 'Lies Agreed Upon' Responding to the question to the president when he emphasised he was fully aware of the situation of Sri Lanka. When the president asked him whether he is from an NGO he had accepted it. Then the president was able to silence the former FMM head."
However, Mr. Deshapriya says that he recorded the complete meeting.
"He actually had a very friendly chat with us on how to re-establish democracy in Sri Lanka after the meeting," Sunnada comments on the President of Maldives.
Further he says, "This shows how far GOSL is ready to go to discredit and intimidate human rights defenders to cover up the black records of their human rights abuses. They even used another country president's name to spread lies among the people."
Nevertheless he is planning to write a letter to the President of the Maldives regarding the issue.