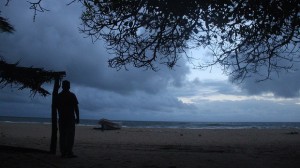 Megaraj Suresh, onthe beach in Batticaloa, says trying to come to Australia was his worst mistake. Photo: Ben Doherty
Ben Doherty
The repatriation of Sri Lankan asylum seekers may have 'stopped the boats', but many who are forcibly returned to Sri Lanka say their lives are in grave danger.
After some reluctance, Megaraj Suresh* agrees to meet outside a Hindu temple that is being renovated. We sit under a banyan tree in a corner of the sandy grounds, backs against the trunk, facing out so we can see anyone coming.
He is wary and doesn't remove his motorbike helmet "so from a distance they cannot see it is me".
"They" are Suresh's great worry at present, even if he's not precisely sure who "they" are, or when they will come for him. "I don't sleep at night for fear. I know they will come, there might be a white van, government people or paramilitaries, I don't know who, but I will disappear. They might never find my body."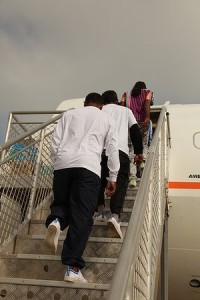 Asylum seekers board a plane from Christmas Island back to Sri Lanka.
Suresh was involuntarily returned to Sri Lanka from Australia on November 30 last year. He maintains that his claim for asylum was not properly heard and that during his single interview his political background was ignored.
He says he told Australian authorities that he sought asylum to escape threats being made against his life because he campaigned for an opposition political party.
He has been back in Batticaloa, a poor, Tamil-majority city on Sri Lanka's east coast, for three months. He can't find work to pay back the massive debt he incurred getting to Australia, and the agent who arranged his trip is pressuring him for money.
He had a job before he left, but the stigma of now being a "failed" asylum seeker keeps people from hiring him. His children are bullied at school.
But it is the fear "they" will come for him that dominates his life. Suresh has moved nine times since he returned, staying at friends' houses, with extended family, or sleeping in temples, but never in the one place more than a few days. He doesn't answer his phone or go out at night alone.
"They will destroy me, I know that. But my wife and children should be living peacefully. They are not safe because of me."
In post-civil war Sri Lanka, being abducted is a well-founded fear. The country is notorious for "white van" disappearances, in which political opponents of the government are snatched from the street by men driving white vans without number plates.
Citizen journalist organisation Groundviews, part of the Centre for Policy Alternatives, detailed 57 publicly reported disappearances in the first half of 2012. Many of those abducted have not been seen again.
The Sri Lankan government denies responsibility, despite police in at least one case confirming the kidnappers were out-of-uniform soldiers. The international community is not convinced and doesn't accept the government's denials. The US said last year "serious human rights violations continue, including disappearances, torture, [and] extra-judicial killings".
Australia, which warns its citizens there is a "high risk of politically motivated violence" in Sri Lanka, formally told Sri Lanka at the UN that it must "take action to reduce and eliminate all cases of abuse, torture or mistreatment by police and security forces … [and] all cases of abductions and disappearances".
Fairfax first met with Megaraj Suresh in early December last year as he was released from Negombo prison, where he had been held for four days after being repatriated to Sri Lanka.
He was part of a group of 50 – 38 Tamils and 12 Sinhalese – whose involuntary return from Australia raised serious concerns in both countries, after they alleged their claims for asylum weren't properly assessed and that they were granted only one brief interview with no avenue for appeal, before being forcibly repatriated.
The United Nations Commissioner for Human Rights said of Australia's repatriation policies at the time: "The current procedures raise troubling questions as to both fairness and accuracy, which we have raised with the Australian government."
More than half of the 38 returned Tamils were from Batticaloa. Over several independent interviews with six of the returned men, Fairfax Media was told most of the Batticaloa returnees were campaign workers for the opposition
Tamil National Alliance during last year's provincial council elections.
In September, despite low voter turnout, the TNA won six of 11 seats in Batticaloa, the only district where it beat the ruling UPFA coalition, which runs the Sri Lankan national government. The result meant the UPFA lost control of the Eastern Provincial Council.
In the aftermath of the poll, marred by more than 300 complaints of electoral law violations and election-related violence, government-allied paramilitary groups allegedly threatened TNA members and workers. "They came in the night time, carrying weapons and told me I should not work for the TNA; they said I would disappear unless I stopped," one returnee, Mathi, says. "They threatened my life and my family members."
Mathi and others took to Australia letters from parliamentarians detailing their party service, and insist they were fleeing political violence and not seeking economic opportunity when they boarded boats for Australia.
"Some of the men they sent back went for jobs to earn money for their families; but for most of us we had to flee for our safety, for our lives," says Kugan, another returnee.
"There was no other reason – I went because my life was threatened; even now I am still very nervous," Mathi says.
Since returning, all the men Fairfax spoke to said they had been visited by Sri Lankan police's Criminal Investigation Department for further investigation, and all but one have had their homes intruded upon at night by unidentified, armed men who have threatened them, telling them they, or their families, would be harmed if they continued their political activities.
The Batticaloa men are all out of prison on personal bail – if they don't appear in court a family member can be jailed in their place – ahead of court hearings in the next two months.
Twenty-seven-year-old Rajesh, who has left Batticaloa for another city, told Fairfax Media that if it wasn't for his court case, he would already have fled Sri Lanka again.
"If my father was not my personal bail, I would already be gone. As soon as it is over, I will try to leave again, any way I can, to any country – because I can't live here," he says.
The Sri Lankan government firmly rejects claims that returned asylum seekers, particularly those who oppose the government, face any persecution.
Media minister Keheliya Rambukwella says claims of intimidation are confected for political purposes, and charges of illegal migration are regularly set aside by courts.
"The people who come back face no problems. There are no repercussions," he says.
"The constitution says there are some legal implications for people who leave the country illegally, but we have relaxed that a lot. People will have to appear before a magistrate, but many have been pardoned; it is an understanding between the two countries."
Australia, too, says all returnees are safe in their countries of origin. A spokesman for the Immigration Department says no person is returned if it is believed they might face any form of persecution.
"Officers from the Australian high commission in Colombo have indicated that there is no evidence of the persecution of returnees following their arrival in Sri Lanka."
All "irregular maritime arrivals" to Australia are individually screened to determine whether they raise Australia's protection obligations.
An initial interview determines an asylum seeker's identity, reason for leaving their country of origin and reason for coming to Australia. Based on this interview, people are screened "in" or "out" of the protection process.
"If at any stage people raise claims that may, on their face, engage Australia's protection obligations, these claims are assessed on their individual merits," the spokesman said.
For now, the boats have stopped leaving Sri Lanka. Last year, 6428 Sri Lankans arrived on Australian shores seeking asylum. So far this year, there have been 45.
A massive public awareness campaign run by the Australian government across Sri Lanka appears to have worked.
Visits by ministers and senior public servants have attracted coverage by English, Sinhalese and Tamil language press, and an advertising blitzkrieg warning repeatedly that "there is no visa on arrival … no speedy outcome, and … no special treatment", seems to have finally made an impact.
The office of the Immigration Minister believes the government's policies, particularly offshore processing and the rapid return of asylum seekers judged not to engage Australia's protection obligations, are beginning to act as deterrents to people leaving Sri Lanka.
But other factors, such as the weather, have played a part. The winds off Sri Lanka make putting a boat out more difficult now, and the seasonal "swells" off Christmas Island make the other end of the voyage especially fraught.
The Sri Lankan government believes increased naval interdiction, and the arrest of people-smuggling ringleaders, has broken the back of "their illegal trade".
"And Australia has made the right decision to send people back quickly. By accepting them it was sending the wrong message and encouraging people to try to take this risky journey," Rambukwella says.
But it is perhaps the returnees themselves, some arriving back in Sri Lanka just weeks after being spirited to Australia, that have acted as the greatest deterrent.
Nine hundred and thirty six men have been returned to Sri Lanka since offshore processing was restarted in August, 735 of those against their will, with no resettlement assistance.
Returned asylum seekers say they are shunned by their communities, even their own families, as "failures".
From snide comments to outright hostility, they are told they have wasted their opportunity to get out, with nothing to show for it except a crippling debt.
As we rise to leave, walking in opposite directions from the temple grounds, Suresh says leaving Sri Lanka to seek asylum in Australia was his " worst mistake".
"I have lost everything, I have no job, I have debt, and my problems are not gone. Before I left, I thought my life could not be any worse. But now it is."
* Some names have been changed to protect identities.
Ben Doherty is South Asia correspondent.