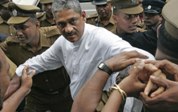 Former army Commander Sarath Fonseka, who walked out a free man yesterday, said he will be safe among people, and those who are well aware of the service he rendered to the nation, will protect him.
"I have immense confidence in people and I honestly feel they will not jeopardize me" a jubilant Sarath Fonseka said.

Speaking to Ceylon Today exclusively at the Supreme Court soon before his release, Fonseka said he has no intention to work under any "leader" or any other political party. He also said he will remain in the Democratic National Alliance (DNA) – the party from which he entered Parliament in April 2010.
He made these remarks when asked about the invitation made by the United National Party to work as a joint opposition under the leadership of Opposition Leader Ranil Wickremesinghe.
He said he has no greed for his parliamentary seat and he does not want to unseat Jayantha Ketagoda – the DNA Parliamentarian who replaced him in Parliament.
"He knows his responsibilities and carries out his duties in a satisfactory manner. So there is no issue with regard to my seat," Fonseka said.

When asked about the ongoing court case against him in the Colombo High Court with regard to harbouring Army deserters during the Presidential Election period which will be taken for hearing again on 07 June, Fonseka said he is unaware of the outcome of it.

"I don't know whether there is a political motive behind my release since there is one ongoing court case against me. I don't know whether there is any move to politically "trammel" me. There is a suspicion, yes. But, even though they imprison me again, it will not make a big difference for me. I know that the people of this country are with me.," he added.
He also extended his sincere gratitude to all staff members of the Colombo Chief Magistrate's Court, High Court, Court of Appeal and the Supreme Court for the goodwill extended by them during the trying times.
He also invited the public to join hands with him to build a country where there is justice and fair play for everyone. He also vowed that he will be committed to rebuild the country and said he needs the support and strength of the people in order to achieve that.
By Ishara Rathnakara
CT