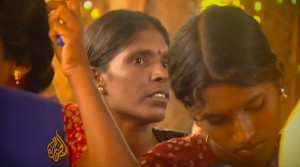 Rohan Roamer
I just viewed a documentary produced recently by Al Jazeera titled 'Civil war leaves Sri Lankan women vulnerable'. The film has left me deeply disturbed, shocked and ashamed particularly because as a woman, I am not doing my duty in protesting vociferously against such atrocities. Some sections of the documentary appear to have been deliberately blocked for apparent reasons.
We cannot continue to turn a blind eye against the neglect of vulnerable women who are struggling to rehabilitate themselves and their families, post war. Why is there a lack of concern by the state as well as society towards these war victims?
Many households in the north and east are headed by women as most males have died, been incapacitated or gone missing after the war. Several families have been located in areas that do not yet have the basic amenities and continue to live in flimsy shelters as they do not have the resources, income or capability to build secure houses for themselves. This poses the question of how many houses have been built utilising the grant provided by India expressly for this purpose soon after the end of the conflict.
In addition to destitution and neglect, many women and children suffer from post traumatic stress disorders due to the immense suffering experienced as a consequence of the ethnic conflict over the last thirty years and, particularly, during the final stages of the war.
The state has to be accountable for the safety and security of vulnerable women and children from stalkers of all types. However, the unnaturally extensive militarization strategy of the north and east maybe the cause for the breakdown in normal ethical and moral conduct. Also, the heavy concentration of power in the hands of those in authority in contrast to the financially, psychologically and emotionally affected majority of civilians leaves ample room for the abuse of power particularly towards the most vulnerable sections.
It is a disgrace to our nation that international media organizations should point out such atrocities to the entire world while we remain totally disinterested or in a state of denial.
The state and society need to act urgently to address the problem and restore our credibility to the world as a nation that cares and protects its citizens irrespective of their gender, social status or ethnic origin.