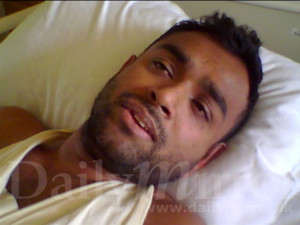 Asela Waidyalankara: they were drunk, abusive and vulger
The condition of the son of DIG Ravi Waidyalankara, Asela Waidyalankara is currently reported to be stable and he is undergoing treatment at a leading private hospital in Colombo.
Asela Waidyalankara, son of DIG Ravi Waidyalankara speaking to Daily Mirror said two Police officers in uniform who were on duty and had intervened during the assault were also allegedly assaulted by the gang which comprised the son of Minister Maithripala Sirisena.

Police sources in Kalkudah confirmed that two Police officers who were on duty at the beach in uniform were assaulted.
Leading Criminal Lawyers speaking to Daily Mirror said the Criminal Procedure Code and the Penal Code was very clear that the above did not conform to offences bailable by the Police and the suspects must be produced before a Magistrate.
The gang of 13 which included the son of the Minister had been released on Sunday night on Police bail without being produced before a Magistrate.
Refuting allegations of prompting the assault, Asela said he was currently nursing a shoulder injury and would had never got involved in an altercation
"Any ordinary person would know that they can't take on 15 men. I'm nursing a shoulder injury and would never have gotten into an altercation. It's irrational to even think of fighting 15 men alone," he said.
"While they were assaulting me, there were two Police officers on duty close by, I ran to them and urged them to help me and they shielded me and in the process they were also assaulted," Asela Waidyalankara said.
Speaking further in his hospital bed, the soft spoken telecom executive said that he urged the gang not to take lewd photographs with his wife in the background which prompted the brutal assault.
"I just came from a boat ride and went to the room to keep our belongings. As I was coming back I noticed about 15 people standing there, all of them were drunk and one person had removed his swimming trunk and displayed himself to my wife with another guy taking pictures. I'm also an amateur photographer and I knew what they were doing," he said.
Speaking further, Waidyalankara said that, the gang had then surrounded him and his wife who had rushed to his help was also assaulted.
"I was with my family and didn't want any altercation so I went up to them and told them very politely.
These are the exact words I used "Machang you took some pictures of my wife if you can show them to me and delete them, you're here to have a good time and I'm here to have a good time, let's not spoil it".
Then a few more people started surrounding me and hurling abuses at me. I was shoved and at that point they started assaulting me, my wife who came to save me also was assaulted," a shaken Waidyalankara said.
Eyewitness earlier confirmed to Daily Mirror that the gang had been heavily intoxicated and were acting in a lewd and obstructing manner'
The victim was then admitted to the Batticaloa Teaching Hospital and was rushed to the Intensive Care Unit. Sources said there was severe political pressure on the Hospital to release the victim.
He was later transferred to a leading hospital in Colombo.

Sources meanwhile alleged that Minister Maithripala Sirisena escorted the gang including his son to the Chavakachcheri Hospital where the Judicial Medical Officer had stated issued a certificate to the effect that the group had not been under the Influence of Liquor.
Eyewitnesses to the incident speaking to the Daily Mirror said that the group was under the influence of liquor and this was also confirmed by the resort in which the two groups had been staying at. (By Hafeel Farisz and Darshana Sanjeewa)