I was ill-treated by Bribery Officials, says Kanagasabai By Nirmala Kannangara –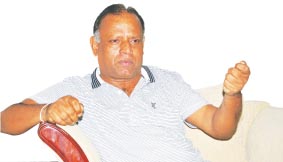 4-01
Following the arrest of Kanagasabai Ranjan, Director (Preventive), Prevention Division Directorate, Sri Lanka Customs on January 3 for an alleged bribery charge of accepting Rs.1 million to release five containers of full car units, he was given bail by the Colombo Chief Magistrate Rashmi Singappuli on Thursday, January 24.

Kanagasabai was to be appointed as an Additional Director General of Customs on January 11, 2013 but was deprived of the promotion on January 3 – just one week ahead. He was arrested on Thursday January 3, 2013 for an alleged bribery charge for accepting Rs.1 million to release containers of cars as full units. After his release, Kanagasabai told The Sunday Leader how he was ill-treated by the bribery officials soon after the arrest in his office at Sri Lanka Customs and within the walls of the Bribery Commission office later that day.
While recalling the ordeal he had to undergo at the hands of those who arrested him, Kanagasabai said he was traumatized and queried whether it was because he is a Tamil national.
"I am a Tamil and was traumatized by certain officials in the Bribery Commission to give my statement in Sinhalese. When I showed my reluctance they yelled at me and said that if I didn't give the statement in Sinhalese I would have to wait till sun up by which time it was around 4.30pm," alleged Kanagasabai.
According to him, not only he was troubled by these officials but they had used abusive language disregarding the fact that he has served this country with honesty and integrity for over 30 years.
Assuming Kanagasabai would have recorded what they were telling; Inspector Abeysinghe has grabbed the mobile phone and had wanted to dash it on the ground but had not done so. "When I was kept in the van near Gafoor building for many hours I wanted to go to the washroom. When I informed of this to the bribery officers they wanted me to go to the pavement. Since it was a congested time I felt embarassed to answer the call of nature on the pavement. However there was no other option but to follow their instructions," said Kanagasabai.
He further described as to how he was threatened to give the statement while having his dinner.
"They even chased away my wife when she requested them to allow me to give the statement in Tamil. It is unimaginable as to how I was traumatized at the hands of those who paid scant regard to all forms of decency and fair-play. However when I told them that I was hungry they bought a 'bath packet' around 10.30pm and gave it to me to which kind act I am grateful to them. When I wanted to eat since I was so hungry, they still did not allow me to have my dinner but forced me to eat while making the statement around 11pm," said Kanagasabai.
Meanwhile, members of the Joint Customs Trade Union Alliance (JCTUA) described how they were surprised to see the way Kanagasabai was dragged away from his office like a criminal.
"When he was taken away we followed him but we were not allowed to accompany them in the lift. However, we were told that our Director was kept in the bribery van near the Gafoor building in Fort. Most of us took turns and went to see him. We were shocked to see the way the bribery officers allowed other racketeers in league with Harsha to insult Kanagasabai and also allowed them to photograph the Director who was surrounded by the bribery officials. We saw as to how these racketeers mocked at Kanagasabai," the sources added.
The sources further alleged that it was not a surprise for them if this ill-treatment had been meted out at the hands of police officers but added they never knew that bribery officers were more cruel than police officers.
According to them, the bribery officials had told the Director General that they had followed Kanagasabai for over two weeks before he was trapped.
"We also came to know that these officers have told Kanagasabai's deputy Walawage that the bag of money was found on the ground. This is hilarious. When Kanagasabai was produced before courts on January 4, the same officials said that the money was found in the third drawer. They contradict their own statements each day. As said to our Director General if these officers were following Kanagasabai for over two weeks, they would have recorded the conversations between our Director and Harsha and had enough of time to video the 'drama'. Since we have a competent finger print section in Sri Lanka Police, they would have used a good quality envelop to put the money so Kanagasabai's fingerprints would have been traced easily. We overheard one of the bribery officers saying that the 'drama' was videoed. Even we are happy to see those records to see how Kanagasabai 'accepted' the money," claimed the sources.
Meanwhile, startling revelations have now come to light as to how the bribery officers – IP Abeysinghe and Weersinghe verbally pressurized the eyewitness Shiran Duminda Subasinghe not to give statements in favour of Kanagasabai Ranjan claiming that the end result would be harmful to him (Subasinghe).

"Since there was a court order to give a statement to the Bribery Commission I went with my lawyer one afternoon around 2.30. Then I was told that they cannot record a statement since they have not received the court order and wanted me to stay for a while. Around 5pm they wanted me to go back and come on the following day. When I went the following day, my lawyer was not allowed to be with me and wanted him to move out. Then I objected and said that he has to be somewhere he can see me for security reasons. From the time I sat to give my statement IP Abeysinghe was trying to influence me not to give evidence in favour of Kanagasabai. He said that my life would be in danger if I gave evidence in favour of Kanagasabai," Subasinghe told The Sunday Leader. According to Subasinghe, IP Abeysinghe has threatened him not to give false evidence as they had taped how the bribe was accepted by the Customs officer.
"He further threatened that I would lose all my business if I supported Kanagasabai and added that he would not help me if come later seeking any advice. After attempting several hours to change my mind he went off shouting at me saying 'do anything what you want and see what the consequences would be in near future,'" said Subasinghe.
"Since I have done nothing wrong and has no connection with any one in Customs I stood firm and said that unlike police officers who could be bought for money, we as honest citizens would not get scared by any threats nor can be intimidated. For them to record my statement it took more than four and a half hours and had to take the service of four typists. In my statement without my permission they stated that I was turning back to Kanagasabai's room when this 'drama' took place. When I asked them to delete it they did not. Instead the typist walked out and the officer said that it couldn't be changed without the typist. They further said that the last sentence would not be an issue but I insisted that it has to be scribbled. Since they did not do it I scribbled the sentences that they typed without my consent. When I was scribbling the officer shouted at me asking not to do so, as the magistrate would reprimand them for bringing scribbled notes. But however I had to scribble them despite their strong agitation," Subasinghe added.
Pictures by Asoka Fernando
SL