Image: In this Monday, Jan. 23, 2017 photo, Sandya Ekneligoda, wife of disappeared journalist Prageeth Ekneligoda, turns pages of their wedding album while speaking to the Associated Press at her residence in Homagama, on the outskirts of Colombo, Sri Lanka. Hope is fading fast for the families of journalists who were killed or disappeared during the country's brutal, decades-long civil war with little action so far from a new government voted into power two years ago, activists and relatives said Tuesday. Sandya, who has fought for seven years to know the whereabouts of her abducted husband, says even though the Sirisena government brought hope for justice, its recent steps have dented her confidence. (AP Photo/Eranga Jayawardena)
KRISHAN FRANCIS.
COLOMBO, Sri Lanka (AP) — Hope is fading fast that Sri Lanka's government will take action against those responsible for the deaths and disappearances of dozens of journalists during and after the country's long civil war, activists and relatives said Tuesday.
President Maithripala Sirisena campaigned on a promise of ending a culture of impunity when he defeated former President Mahinda Rajapaksa in a January 2015 election.
During Rajapaksa's nine-year tenure, dozens of journalists were killed, abducted and tortured, or fled the country fearing for their lives. Scores more were killed or disappeared during the civil war that ended in 2009 with the defeat of Tamil Tiger rebels.
Two years into Sirisena's presidency, there is little sign that the suspects, mostly military soldiers, will be punished.
On Tuesday, dozens of journalists and activists gathered in Colombo to commemorate the missing and write postcards to Sirisena demanding that he appoint a presidential commission to investigate the abductions.
The campaign was organized to mark what organizers call "Black January," a commemoration of the killings and abductions of journalists and the destruction of television studios that occurred in the month of January between 2005 and 2010.
Among those participating was Sandya Ekneligoda, who has fought for seven years to discover what happened to her abducted husband, Prageeth Ekneligoda.
Prageeth, a journalist and cartoonist, wrote about corruption, nepotism and Rajapaksa's leadership of the military campaign against the rebels. He was abducted two days before a 2010 presidential election in which he actively supported Rajapaksa's rival.
"From day one I had the conviction that Prageeth had no enemies and that this (the abductions) is a work of Mahinda. Mahinda and Gotabhaya should be responsible," Ekneligoda told The Associated Press referring to the former president and his brother and powerful defense secretary Gotabhaya Rajapaksa.
She said investigators told her that her husband was probably dead. They had found that he had been taken by his abductors to an army camp and the last available information is that he was transported to the east coast.
"We can live in hope that he is alive; at the same time we can't be hopeful because the CID (Criminal Investigations Department)) says that he is no more."
Ekneligoda said the Sirisena government brought hope for justice, but its recent steps have dented her confidence. One reason, she said, was a speech by Sirisena in which he criticized police for holding the soldiers suspected in Prageeth's abduction longer than necessary.
Days after the speech, a court released the suspects on bail and the military promptly reinstated them to their earlier positions, which Ekneligoda said was a clear message that the suspects have the state's backing.
"Clearly the manner of the president today is not what we saw when we brought him into power in 2015. He has a totally different attitude," Ekneligoda said.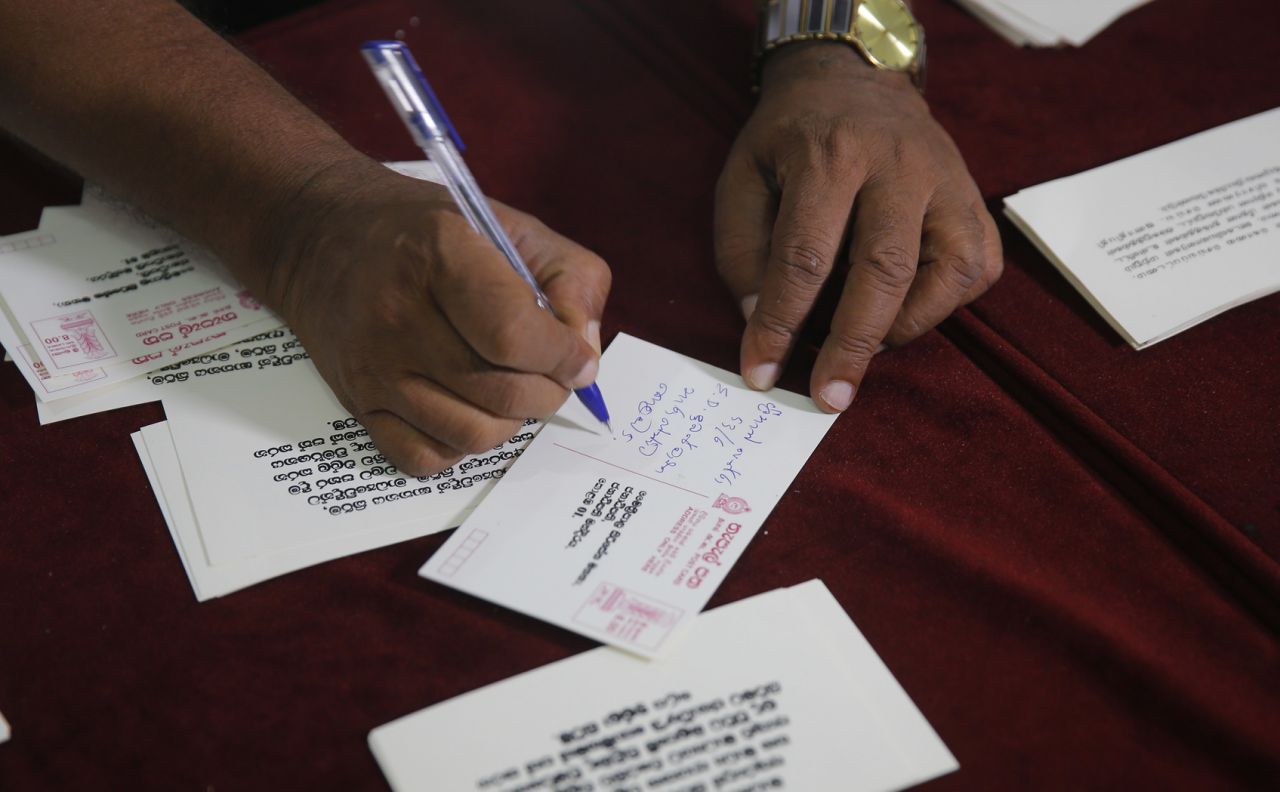 Sirisena has said his speech was not meant to influence the court.
K.W. Janaranjana, a newspaper editor and activist said that he was "highly dissatisfied" with the way investigations are being conducted and urged journalists and other citizens to keep up pressure on the government.
During Rajapaksa's presidency, journalists were largely concentrating on staying alive rather than focusing on the quality of journalism, said journalist and activist Dilrukshi Handunnetti. But that has reversed even though a lot needs to be done to account for past crimes, she said.
During the country's 26-year civil war, both the government and the Tamil Tiger rebels were accused of killing and abducting critics.
The government's war victory in 2009 ended the rebels' campaign for an independent state for ethnic minority Tamils.
______
Associated Press writer Bharatha Mallawarachi contributed to this report