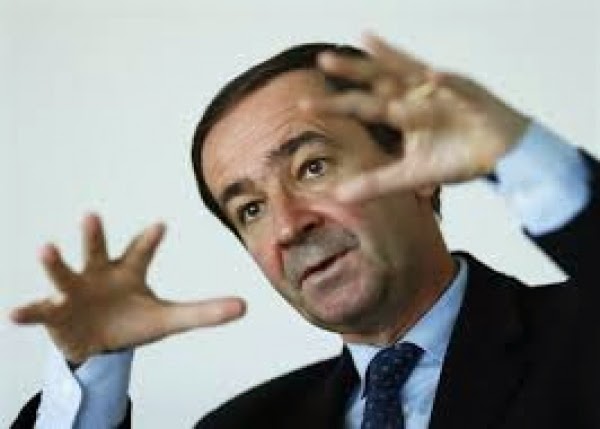 Holcim Group CEO Bernard Fontana
A Press Conference convened by Holcim Lanka last week – where Holcim's Group CEO Bernard Fontana addressed journalists in Colombo – was marred by the company's decision to bar certain journalists from attending the press conference.
The reporters from 'The Sunday Leader' and its sister newspaper 'Irudina', who went to report the press conference with their media accreditation cards and company IDs, were not allowed to go in as per the instructions of the management of Holcim Lanka.

'The Sunday Leader' carried a few articles in the recent past that were critical of the management of Holcim Lanka, a subsidiary of Swiss-based cement giant Holcim.
Sources from Holcom Lanka told Asian Mirror that Holcim had decided to NOT invite journalists who would ask "difficult questions' from its Group CEO Bernard Fontana. As a result, several publications were not invited for the press conference which was held at Taj Samudra Hotel, Colombo.
Holcim's 'selective approach' towards publications which was conspicuous at the press conference gave rise to the speculation that the company had something to hide and/or Fontana's visit was marked with some hidden agenda. Holcim Lanka, in the recent past, came under strong criticism from Sri Lankan media over alleged corruption, malpractices and non-adherence to best business practices.
It was also reported that the company had strictly instructed Savithri Rodrigo, the compere of the event, to 'manage' the situation, if and when journalists asked 'tough questions' from the Holcim Chief.
When 'Asian Mirror' contacted Fiona Nanayakkara, Communications Manager of Holcim Lanka, she said the press conference was only open to 'selected members' of media. "Not only Sunday Leader, but many other publications too were not invited for the press conference," she admitted.
When asked about the reason behind being selective, Nanayakkara said it was not a "big press conference", but a press briefing!!
AM