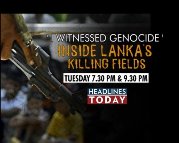 New Delhi-based news channel, Headlines Today, which has brought wide media focus in India on Sri Lankan war crimes after broadcasting the Channel 4 documentary, Sri Lanka's Killing Fields, followed with a debate recently, on Monday said it was to broadcast an exclusive documentary of its own on Tuesday, titled "I witnessed Genocide: Inside Lanka's Killing Fields". The new documentary to be aired on Tuesday will feature eyewitness accounts of shelling and aerial bombardment of designated safe zones, hospitals and other civilian targets, rape, sexual harassment at IDP camps, use of chemical bombs, use of cluster munition, denial of food and medicines to civilians etc., media sources in New Delhi said.
Meanwhile, the editor of Headlines Today, Rajesh Sundaram, on Monday brought an exclusive interview with Sri Lankan Defence Secretary Gotabhaya Rajapaksa. In the interview, the SL presidential sibling has hit out at Tamil Nadu Chief Minister J. Jayalalithaa for her recent comments seeking international war crimes investigations and economic sanctions on Sri Lanka.
"This [the resolutions in the assembly and statements by Tamil Nadu Chief Minister J. Jayalalithaa] must be for her to gain political advantage…It is not reasonable, because in Sri Lanka regardless of being Sinhala, Tamil or Muslim, we are Sri Lankans. We are more worried about our citizens than anyone else. This [the resolution and statements by Jaya] is without knowing facts," Gotabhaya Rajapaksa was telling the Headlines Today.
Instead, Mr. Gotabhaya advised the Tamil Nadu Chief Minister to focus her attention on the need for rehabilitation of the Tamil people in the war ravaged areas, the Headlines Today reported.
On the call for international investigation of war crimes committed in the island, Gotabhaya Rajapaksa expressed confidence in continued support from the New Delhi establishment: "We have strong backing from the rest of the world, starting from Russia and China and I am sure of it from India, Pakistan and a lot of the countries from Africa, Middle East and South East Asia. That is the international community. A few people in the world can't say they are international community."