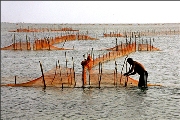 UNP National List MP Harsha de Silva yesterday rejected claims made by External Affairs Minister G.L. Peiris in Washington comparing the growth rates of the northern economy with that of the national economy. Peiris who met with Secretary of State Hilary Clinton said that the economy in Northern Province was growing as much as 22% while the average for the rest of the island was about 8%.

De Silva said that the 22% growth for the Northern Province was a nominal figure which includes inflation in the province ("certainly very high but we don't have data") while the 8% national average was the real figure after accounting for inflation.
"There is no way in which you can compare the two figures," the MP said. "This is pure manipulation."
He addewd that this was a "damn shame.''
The exact words Prof. Peiris used during the State Department appearance with State Secretary Clinton prior to the meeting were "The most striking developments have really been in the northern province of Sri Lanka where the economy is growing by as much as 22 percent in comparison with the average for the rest of the island, which is about 8 percent.
"Now this is the result of an emphasis on the development of infrastructure to a degree that is really without (inaudible) at any other time in the island's history."