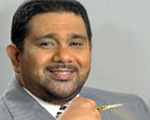 National United Front General Secretary and former deputy Mayor of Colombo Azath Sally had been interrogated by the CID on yesterday, Mr. Sally said in a media communiqué.
It is reported that the inquiry was conducted with regard to alleged spreading of racial and religious discord through cell phone short messages.

During the inquiry, Mr. Sally had been questioned regarding a journalist from English media, who was supposed to have sent 27 short messages to create tension among Muslims, three of which were sent to him.
"My telephone number is known to many people. Hundreds of people speak to me daily and I also receive similar number of messages. I cannot remember every one of them, and no one can even expect me to remember all of them," he said as saying to the CID.
DM