BOGOTÁ, Colombia — Gustavo Petro, a former rebel who rallied young and poor voters with promises to transform an unequal society, was elected Colombia's first leftist president on Sunday, in a resounding rejection of the political establishment that has ruled the South American nation for two centuries.
Colombia, the third-largest nation in Latin America, now becomes the latest country to shift left in a region ravaged by the coronavirus pandemic's economic assault. Petro's triumph, in one of the most historically conservative countries on the continent, is a stunning example of how widespread discontent has shaken the status quo.
His win is remarkable not only because of his political ideology but also because of his life story: A former clandestine guerrilla, who served time in prison in the 1980s for his involvement with a rebel group, will now become president in a country still reeling from armed criminal violence. His presidency could have profound implications for Colombia's economic model, role of government, and its relationship with other countries in the hemisphere — including the United States, its most important ally.
Speaking from a packed arena in the nation's capital, he stood beside the woman who will become Colombia's first Black female vice president, Francia Márquez, an environmental activist who energized an Afro-Colombian community that long felt forgotten by those in power. Petro called for a "great national dialogue" to unify the country and build peace.
"Peace means a Colombian society with opportunities. Peace means that someone like me can become president or someone like Francia can be vice president," he said. "Peace means that we must stop killing one another."
The crowd, waving Colombian flags and erupting in cheers, chanted together: "No more war!"
Hernández swiftly accepted the results on Twitter.
"I hope that this decision that has been made is beneficial for everyone," he said in a video address on social media. "I hope that Gustavo Petro will know how to lead the country, that he will be loyal in his discussion against corruption, and that he will not disappoint those who chose him."
Petro's comfortable lead defused fears — at least for the moment — that a razor-thin race could lead either candidate to question the election results and spark a wave of civil unrest, one year after massive protests swept the country.
Petro's campaign galvanized communities struggling from the pandemic in a country where half the population doesn't have enough to eat and 40 percent are living in poverty. His campaign tapped into the desperation and anger of those who took to the streets last year in massive nationwide protests. And his victory is a loud rebuke of the deeply unpopular administration of incumbent Iván Duque, who many felt did little to improve the economic situation in one of the region's most unequal countries.
But some fear that Petro's policies, including his proposal to ban new oil exploration, could destroy Colombia's economy. Others say a Petro presidency could test the country's long-running but fragile democracy. He has said he would declare an economic state of emergency to combat hunger if elected, a proposal criticized by some constitutional law experts.
Analysts worry about his willingness to work around Congress and other democratic institutions to push through his agenda. Others predict he will not be able to deliver on his promises with a divided legislature. As mayor of Bogotá, Petro oversaw a slew of staff departures and was criticized for refusing to listen to his advisers.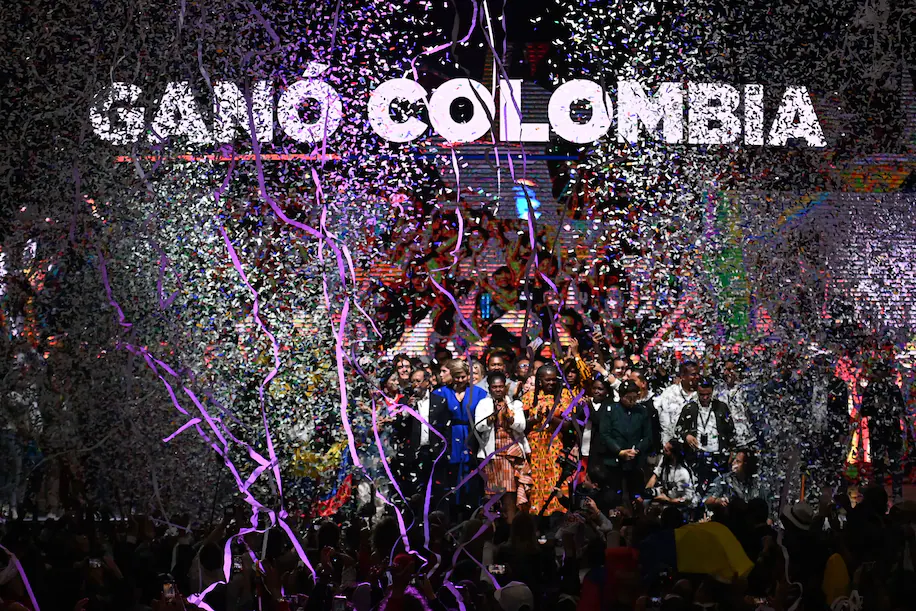 "The question is whether the institutions will also be able to moderate that and hold him accountable," said Sandra Botero, a political scientist at Colombia's Rosario University.
Petro proposes transforming the country's economic system by redistributing wealth to the poor. He says he'll establish free higher education, a universal public health-care system and a minimum wage for single mothers. He says he would raise taxes on the 4,000 wealthiest Colombians and boost the local agriculture industry.
But he gave a frank message to his critics from the arena stage on Sunday night: "We will develop capitalism in Colombia," he said.
The United States has long considered Colombia its most important and stable ally in the region. President Biden has described the country as the "keystone" of democracy in the hemisphere. Now some worry a Petro presidency will strain that long-running partnership, particularly in the two countries' efforts to combat the drug trade.
Petro argues that counternarcotics policies over the past several decades have been a failure and that aerial eradication of coca has done nothing to reduce the flow of cocaine to the United States. He has vowed to focus instead on crop substitution. He has also suggested changing the extradition treaty between the two countries.
"The prospects of continuing our normal approach with respect to confronting transnational crime are about zero," said Kevin Whitaker, former U.S. ambassador to Colombia and now a fellow at the Atlantic Council.
But Michael Shifter, a fellow at the Inter-American Dialogue, predicts that a Petro presidency will involve "a lot of political posturing" but little actual hostility toward the United States, much like the presidency of Andrés Manuel López Obrador in Mexico. Shifter says it reflects a "new reality" captured by the division at Biden's Summit of the Americas earlier this month. "Latin America is going its way and the United States is going its way," he said.
On Sunday night, Petro called for a "dialogue in the Americas without exclusions," and asked the United States to work with him on what he described as a priority of his diplomacy — the fight against climate change.
Secretary of State Antony Blinken said in a statement: "On behalf of the United States, I congratulate the people of Colombia for making their voices heard in a free and fair presidential election. We look forward to working with President-Elect Petro to further strengthen the U.S.-Colombia relationship and move our nations toward a better future."
Petro told The Washington Post that he envisions a progressive alliance with Chile and Brazil, a new Latin American left built not on extractive industries but rather on protecting the environment. He also said he would normalize relations with neighboring Venezuela, a significant shift from Duque, one of the region's staunchest opponents of socialist president Nicolás Maduro.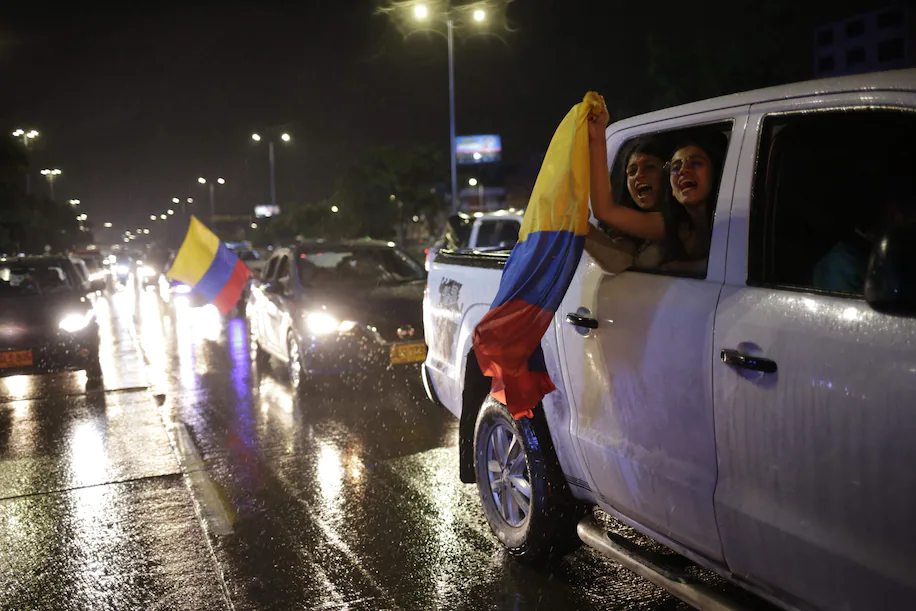 The election marks yet another blow to the political establishment in Latin America, where voters have sought to punish incumbent governments for the devastation wrought by the pandemic. In Peru, a rise in poverty helped propel Marxist rural schoolteacher Pedro Castillo to the presidency last year. In Chile, the free-market model of the region, voters this year chose as president 36-year-old former student activist Gabriel Boric. And in Brazil, the largest country in Latin America, leftist former president Luiz Inácio Lula da Silva leads polls to unseat President Jair Bolsonaro in October.
Many Colombians voting in the country's capital on Sunday said they were desperate for something — anything — different from the presidents of the past.
"We've been subjected to the right and the extreme right for more than 200 years … and things here are bad, bad, bad," said Henry Perdomo, a 60-year-old who works in manufacturing, moments after he voted for Petro in a working-class neighborhood in Bogotá's south. "We need a change."
But some of his neighbors feared what that change could bring. Blanca Elena Timón Diaz, 52, who used to work cleaning houses, worried that Petro would jeopardize her savings and "turn the country into Venezuela." Her vote for Hernández was, more than anything, a vote against the left.
Petro was a member of the 19th of April Movement, or M-19, a political urban guerrilla that later demobilized, reached a peace agreement with the government and became a political party. Fanny Betancourt, 81, still vividly recalls watching as M-19 guerrillas stormed Bogotá's Palace of Justice in 1985. Her father was killed in the attack. Petro denies he was involved in the siege; he was imprisoned at the time. She said she couldn't stand the thought of a former M-19 rebel as president.
For generations, many Colombians have associated the left with the armed insurgencies in its long history of conflict. Petro's win, less than six years after the country signed historic peace accords with its largest rebel group, the Revolutionary Armed Forces of Colombia (FARC), shows just how far the country has overcome that stigma, said lawyer and political analyst Hector Riveros.
The vote came after an election cycle more tense, violent and uncertain than any other in Colombia's recent history. For the first time, Colombians chose between two populist, anti-establishment candidates. Petro's rival, Hernández, the former mayor of Bucaramanga who had never held or run for a national office before, ran on a singular message of rooting out corruption.
But the construction magnate's unfiltered message and lack of proposals turned away voters like Luz Marina Ríos, a 48-year-old in the capital. She said she was desperate for a president who would find new solutions to improve the lives of struggling families like hers.
She lost her job at a confection company during the pandemic and hasn't been able to find work ever since. Her family has had to cut back on meals as food costs have skyrocketed; a pound of meat that used to cost about $2 now costs $4, she said. Her teenage son has had to pick up work on the weekends to pay for his bus to school.
"We'll either fix ourselves or we'll get worse," she said, "but we need a total change."
Diana Durán contributed to this report.