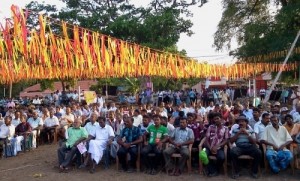 TNA election campaign in

Mullaitivu
Government Spokesman and the Minister for Media and Information, Keheliya Rambukwella, said the government will take action against the Tamil National Alliance (TNA) election manifesto, as it contravenes the Constitution of Sri Lanka.

Addressing the weekly news conference at the Media Ministry yesterday, he said: "Some sections (of the manifesto) are certainly in violation, and the government is disappointed with it and will take action.
There are other parties as well who are contemplating legal action," Rambukwella said the manifesto contains some clauses that relate to some aspects of the LTTE when it was in existence, and now it is patently obvious that the TNA served as the proxy of the LTTE, by drafting the present manifesto.
The minister also refuted speculation that the government was proposing to abandon the forthcoming Northern Provincial polls. He was responding to a question based on newspaper reports quoting the Economic Development Minister, Basil Rajapaksa, as having said so.
"We have no tangible reason to abandon the Northern Provincial Council polls as we have done tremendous development work there. The economic fundamentals of the country are also good with positive growth, reduced unemployment, which is now under 4.5%, and continuing inflation which is under 10%. The interest rates are in single digit, though is still not at a level we could be happy about," the minister said.
He went on to say another reason the country could be happy about, was the fact that Sri Lanka's position in the Global Position Index has improved to 50 from 72, and the country has all the indicators of being a developing nation.
Responding to a question on a TNA victory at the polls would mean it was the endorsement of their manifesto, Rambukwella said, it could be positive on the one side, although it could be that a manifesto would not be implemented. He added, the demerger of the North and the East was based on a Court order.
Asked whether it was ethical for the Northern Province Governor, G.A. Chandrasiri, to make political statements on behalf of the government, despite being the President's representative there, Rambukwella said he had all the right to make statements on the development efforts in the North as the President's accredited representative in the Peninsula.
On being questioned whether it was ethical for the President to interfere with the polls, Rambukwella responded saying there was no issue with the President visiting the North as the Head of State, but there was a problem in his being involved in the election campaign as the Head of the SLFP.
Commenting on the stance of the UPFA, vis-à-vis the JHU walking out of the Parliamentary Select Committee on the national question, and sitting with the TNA on the same stage at the Northern Provincial Council campaigns, the minister said the PSC was a mere tool towards solving the national issue.
"That is non-binding. It is the discretion of the JHU to either participate in it or be critical of it, despite being members of the ruling coalition," the minister said.
by Ravi Ladduwahetty
CT