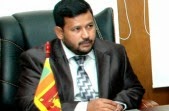 Rishad Badurdeen
Government affiliate JHU says the government should take immediate legal action against the clearing of jungles and the setting up of illegal settlements by industries minister Rishad Badurdeen.
JHU's western provincial councillor Nishantha Sri Warnasinghe queries from the government as to why the law is not enforced against the minister who is violating the fauna and flora act and settling Muslims, which is not part of his ministerial responsibilities.
The situation would have been totally different, and the police and the Urban Development Authority would have initiated speedy legal procedures had some other party done that or had such land grabbing taken place in Colombo.
The JHU councillor said not only the Muslims, but also the Sinhalese who had been driven away from the North, should be resettled.