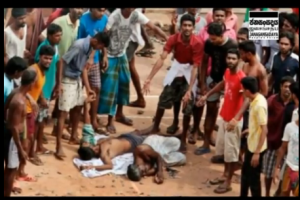 29 Prisoners were killed
The Welikada prison riot report is expected to be handed over to the Minister of Rehabilitation and Prison Reforms Chandrasiri Gajadeera this week.The Minister said that the recommendations of the report will be made available to the UN High Commissioner for Human Rights Navi Pillay if she so requires it.
Gajadeera, who was out of Colombo last week, said that he expects to receive the report this week with the signatures of the entire committee which drafted the report.
However the Minister said that the report is an internal document and will not be made public.
He said that Pillay had made some comments on the Welikada incident during her recent visit to Sri Lanka, and if required his Ministry will make available the recommendations of the report to her.
He also said that action will be taken against any prison official found guilty based on the findings in the report.
The Minister said that a copy of the Welikada prison riot report will also be given to the Parliament Advisory Committee.
By Indika Sri Aravinda
SL