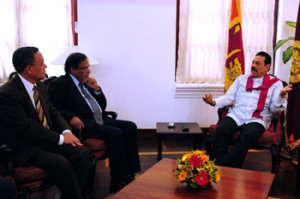 Meeting with MR
The South African government says the attempt to get the government and the TNA back to the negotiating table has failed.The Sri Lankan government stated that the delegation of South African government members had visited Sri Lanka on an invitation by the government and had left the country after extending their fullest support towards the country's reconciliation and economic development programmes.

The South African team met with President Mahinda Rajapaksa and a group from the TNA headed by R. Sampanthan and the South African delegation was led by Deputy Foreign Minister Ebrahim. Speaking to BBC Sandeshaya, Ebrahim Ebrahim has said the attempt to get the two parties to the negotiating table has not been fruitful. He has said the government believes there was no point in holding bi-lateral discussions when the proposed parliamentary select committee (PSC) would help hold a broader discussion with many parties. The government has noted that issues that could not be resolved in the PSC could be discussed at bi-lateral level.
However, Ebrahim has said that he did not believe the government agreed to the TNA's stance that the two parties needed to reach a consensus before commencing broad based discussion.The TNA has told the South African delegation that the PSC could commence after concluding the bi-lateral discussions. The discussions between the TNA and government fell apart in January when the government failed to respond to a proposal by the TNA outlining the administrative structure and the subjects that would come under the central government and the provincial councils and the de-centralizing of finances and tax sectors.Ebrahim has said that the South Africans understood the TNA's stance,but the Sri Lankan government did not show interest in it.
India is the regional head that has called on the government and the TNA following the end of the war to engage in discussions to reach a solution that would be based on power devolution.When inquired from the South African minister if the Indian governmentwas informed of the South African intervention between the Sri Lankan government and the TNA, Ebrahim has said there was no such discussion with India.
The South African Deputy Foreign Minister has told BBC Sandehsaya that South Africa would not play the role of either a facilitator or mediator between the government and the TNA. He has said South Africa was only sharing its experience on reconciliation with Sri Lanka. He has added that it was up to Sri Lanka to use it for its benefit. The deputy Minister has pointed out that South Africa has informed the Sri Lankan government that the end of the war has opened a window of opportunity to find a permanent political solution and that thedecision on whether to proceed with the matter would be up to the Sri Lankans.
X news