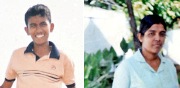 Nimanthe & Manel
The decorations put up for the funeral of the two persons killed in Katuwana attack are being destroyed by the police and thugs say reports. All decorations put up at Thissamaharama and Kudawalla have been destroyed by the police while decorations at Beliatta have been destroyed by thugs.

The decorations at Urubokka have been destroyed by the Urubokka Police. However, people have put up decorations again despite the OIC of Urubokka Police personally had come and destroyed the decorations. He had gone to JVP office at Urubokka and threatened that anyone putting up decorations would be arrested.
In the attack carried out by underworld thugs on a JVP meeting at Katuwana on the 15th 18 year old Nimanthe Rohan and 50 year old Edirimannage Manel, a mother of three, were killed. The funeral will be held today (18th) at Katuwana.
LT
Govt. asks JVP to furnish details of killers
By Norman Palihawadane
Media Minister Keheliya Rambukwella yesterday asked the JVP to furnish details of the persons involved in Katuwana killings to police and co-operate with investigations.
The JVP has told the media that their members identified the attackers who fired T-56 assault rifles killing two and injuring 25 others at a JVP meeting held in Katuwana in Hambantota on Friday evening.
Minister Rambukwella said: "There is no point in accusing the government of this. The JVP has said it identified the killers as government goons. It they have been identified, then the JVP should tell that to the police so that investigations could be expedited and culprits arrested. We request the JVP to provide those details to police."
Meanwhile, arrangements were being made to hold the funeral of Manel Edirimannage and Samantha Heshan killed in the shooting incident at Tiththamandiya in Hendiwatte area in Katuwana. Security has been beefed up in the area in view of the funeral scheduled to be held this evening.
DIG Southern Range, Hector Dharmasiri told The Island that four special police teams had been deployed to probe into the incident and to trace the attackers.