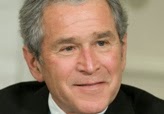 Minister wants bush killed!
Government Minister says American leaders must be killed for the atrocities they have committed, particularly in the Middle East. Education Minister S.B. Dissanayake said that Iraq and Libya were doing well till the U.S. invaded those countries and killed their leaders. Speaking at an event in Kandy today, Dissanayake said that former Iraqi leader Saddam Hussein may have had some shortcomings but he changed Iraq for the better.
"Saddam may have had some flaws but then American leaders had worse flaws. They should be beaten and hanged, be it junior Bush or senior Bush. For the atrocities they committed they must be beaten and dragged on the road and killed," he said at the public event.
Dissanayake said that even Libya has been ruined following the death of former Libyan leader Muammar Gaddafi with the country now a war zone.
The Minister said that now there is an attempt to do in Sri Lanka what was done in the Middle East by launching an investigation through the Office of the High Commissioner for Human Rights (OHCHR).
However Dissanayake said the Government has made it clear that it will not agree to any UN led investigation to be conducted inside Sri Lanka. (Colombo Gazette)