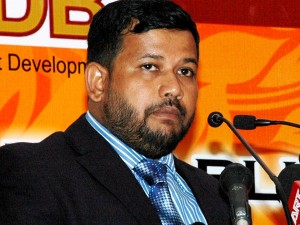 Rishad : A strong Rajapaksha supporter

The Minister of Industry and Commerce Rishad Bathiudeen said the he and his party, the All Ceylon Muslim Congress (ACMC), deplored the statement made by Defense Secretary Gotabaye Rajapaksha alleging Muslim extremism in the country.
He said that the statement seemingly gives credentials to the false claim made by certain communal elements. The Minister said that the elements are hired by some invisible forces to discredit the government in the international arena by whipping up communal hatred through cooked-up stories.

The Minister further said that pre-independence Sri Lanka had witnessed the Muslim leaders of that time contributing no less to the independence struggle than the leader of other communities.
"The tolerance that the Muslims have evinced in the face of provocative attacks on their places of worship and of their faith itself as well as their practices as Muslims which have been going on for more than one year now speaks for itself. In any country there are individual criminals such as murderers, smugglers, rapists and drug peddlers belonging to every community, to deal with whom there are laws. However, a tendency prevails today to depict a picture portraying the Muslim community as a whole as the culprit when a crime is committed by an individual Muslim while offenders belonging to other communities are treated as individual offenders," he said in a statement.
He said that there has not been a single incident where a Muslim had been identified to have or arrested for having involved in extremist activities.
"Under these circumstances, Muslims all over the country deplore the said statement and are highly perturbed particularly at a time when there is sudden eruption of hatred directed at Muslims by certain interest elements which we believe needs to be investigated to get to its root. The ACMC as a partner in the government has stood with it in times of need. Therefore it is in the same spirit as well as in the best interest of the community that we represent that we call upon the defence secretary to clarify this statement so as to dispel any mistrust that the particular statement has created," he said.
September 6, 2013
CG