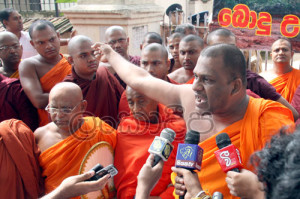 BBS monks has been active in anti Muslim agitations

The Buddhist Leadership Academy of the Bodhu Bala Sena was declared open yesterday (09) by the Secretary of the Ministry of Urban Development and Defense Mr. Gotabaya Rajapakse. This Academy was constructed by The German National Michael Kurstwayer and gifted to the Nedimala Buddhist Cultural Center. The 'Meth Sevana' building complex is located in Galle, Ranchawala, Pilana.

The 'Meth Sevana' Education and Cultural Center has been transformed into the Buddhist Leadership Academy.
According to the Bodu Bala Sena this Academy has been established to propagate leadership qualities in Bhikkus, Buddhist leaders and Buddhist activist youth.
The Nedimala Buddhist Center will run the Buddhist Academy.
The Bodu Bala Sena says they will transform this into a university in the future.
Mr. Gotabaya Rajapakse who addressed the ceremony said that although many had asked him not to participate on this occasion, he did so after realizing its timely importance.
'These Buddhist Clergy who are engaged in a nationally important task should not be feared or doubted by anyone' he said. .
SLM