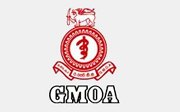 The Additional District Judge of Colombo yesterday (25) vacated the Enjoining Order issued on Government Medical Officers Association (GMOA) preventing their strike demanding transport allowance. Court issued this Enjoining Order on 11 May after considering a plaint filed by a heart patient who claims to be taking treatment at the National Hospital in Colombo.

When this matter came up before the Additional District Judge Amal Ranaraja, Counsel for plaintiff Fizer Musthapa informed Court that he is not moving to extend the order since there is no cause to continue with action.
However, N. Sivendran Counsel for GMOA submitted that they have determined to continue with this action and to make an application for a cross claim of Rs 25 million from the plaintiff Ajith Senaka.
The plaintiff had apparently obtained an enjoining order against GMOA by misleading Court by producing fake material facts stating that he was a heart patient, counsel said.
Ajith Senaka was admitted to the National Hospital on 10 May night for the purpose of deceiving Court and doctors had treated him for a minor ailment on his hand on 11 May and was discharged at around 11 p.m., the same day, the counsel explained to Court.
He acted according to the whims and fancies of political masters to defame the GMOA and thereby deprive their right to take trade union action, counsel told Court.
President's Counsel, Sanka Parthalingam appeared with N. Sivendran and Savinath Dabare for GMOA.

Court gave time for parties to file counter objections on 26 June

By Stanley Samarasinghe
CT